Gray Eyes
MAG
March 21, 2014
As you kiss the rim of your coffee mug your eyes float to my wrists and my heart is again pulsing with the thick liquid of what you call compassion.
It brands us differently; it's ­something you want to do more of, and something I can't find myself bearing.
You say nothing.
Instead your eyes and thumbs brushing against my bruises speak volumes.
You stare at my sleeve you've upturned; a pattern of varying shades of yellow and red and purple fingers plaster my arm. You squint. There's a fire lit deep within your eyes; why are you hiding it? He must've choked her arms, they say. He must've squeezed so that she felt her own pulse – valuable, writhing and kicking like a rabbit under his hand. She must've cried as he dug his nails in deeper, they say, and your thumb runs along the frosted scars near my wrists. She must've felt she deserved it after some time, they say as they melt: ice meeting fire::fire meeting ice.
hatred::disgust::he cares too much
the
line
blurs
Is this normal? I ask. I thought he loved me.
Who knew? You ask, your ­fingers pressing against just the fabric of my sleeve. Who knew that I'd meet such a damaged, scrawny girl in my bookstore.
Your eyes are gray and insipid. But the way they smile, the way that they are cautiously sedulous, garners a prominence more brazen than their color. You use your eyes to speak, like a heart does. It is rare that you speak without deferential thought.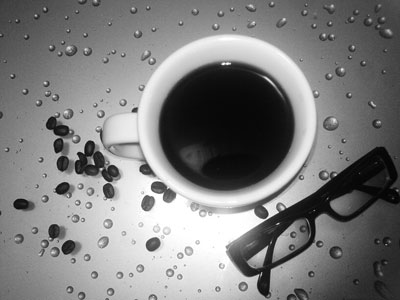 © Hannah U., Staten Island, NY