Cookie Cake
June 12, 2014
"Do you want a big cookie?" Billy asked.

"Yes!" I yelped. "Those ones over there? The pizza sized ones?" He grasped my hand and led me over to the cookie shop in the Little Rock Mall in Arkansas. Even though I had already filled my stomach with assorted goodies throughout the day, I still wanted to try the famous cookie cake.

"They don't taste like cheap Walmart cookies, right? I don't want you to buy me a huge cookie just so I can take a bite and decide I don't want it." I stated.

"Don't worry." He insisted. "I know you, and I know you'll love it." He turned to face the man behind the counter. The employee was foreign-- dark skin, dark hair, slight traces of facial hair, and his heavy accent was detectable when he demanded us to "Order."

"We'd like a regular cookie cake." Billy said.

"What do you want written on it?" The foreign man asked.

"Oh, nothing."

"I have to write something on it."

"I don't want writing."

"But-- I have to put words."

Billy sighed. "Just write the day of the week."

The man looked at us with an unmoving expression. "And-- what day is it?"

"Thursday." Billy mumbled. The man walked towards the cake and began to take his tube of vanilla frosting and plaster the first T, then the R, then the U, the S, D, A, Y. Trusday.

"You misspelled it!" Billy yelled. The man groaned, grasped a rag, and wiped the frosting from the cookie cake.

"Spell it out loud for me." The man said, his accent prominent behind each word.

"T, H, U, R, S, D, A, Y. There." The man walked towards us and handed us our pizza-sized cookie. Old frosting from his failed writing was smeared across the top, and a huge squiggly thursday was written over the smears. It was the stupidest cookie I had ever laid my eyes on. I loved it.


Billy and I sat in the backseat of his mother's van. Billy's mother had always been a reckless driver, and she weaved in and out of highway traffic as if she wanted to murder us. My head was resting in Billy's lap while we ate the enlarged cookie together, finishing every last bite. Billy and I could always wipe out a large sum of food together-- our appetites were magnificent. "I'm going to sleep, hun." I told him, and I nestled my head in a comfortable position on his lap. Life was so simple. Life was so pure. It was a day that was so normal, but yet I felt happy and in love. I began shedding tears onto his jeans, attempting to keep quiet and still, but failing.
"Zoey. Zoey what's wrong?" Billy asked, worried about my sudden outburst.

"I'm the happiest I have ever been in my entire life." I sighed. More happy tears streaked down my cheeks.

"Aw." He said. "I love you." He wrapped his arms around the top of my head and awkwardly bent over to try and give me a hug. With a simple, soft kiss on my temple, he rose back up, and ran his fingers through my tangled hair for the rest of the way home.

It's only memories like that which make me forget why I ended us.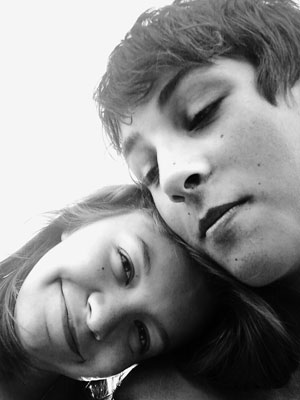 © Mollie D., Stacy, MN