What i learned on the streets of hope Ch1
August 6, 2014
'She's my cherry pie, taste so sweet make a grown man cry!' The stereo cried out as the lights swung around and the floor of the stage shook with the base of the Poison song.
I moved swiftly to the music. Hearing the flutter of the paper bills fall to the ground as they were tossed at me. I wrapped my left knee around the pole, grabbed a higher place, and swiveled down it till I hit the floor. folding my legs in to a stack. I whipped my hair around a few times. Then when I looked up I found the eyes of a brown haired man with high cheek bones.
I began to crawl towards him as he chuckled with his drunkard friends. I rose up on my knees running my hands through my hair. He rose up a few bills to my waist while I stroked my hips as he placed them in my G-string. I lowered my self to lay down with my legs under me.
I continued with the routine until one of the drunkard friends started to grab me, but I shoved him away. "Oh, come on baby." He insisted as he reached again. I pulled away causing him to pull the fabric off my hip. "DAMN YOU PRICK!!!" I shouted at him and drew my hand across his face. "OH,...you B****!!!" He complained and threw his drink on me.
I gasped then moaned through gritted teeth. I quickly swept up all the bills and ran hurriedly back stage. "Danica, can you take over for me please?" i begged "Yeah, I saw." She replied. "Thanks." I said gratefully and went to my mirror in the back.
I sat on the stool with a row of light bulbs that encircled my reflection. I threw the bills on the table. I could hear Danica being introduced over the speakers, only she wasn't shown as Danica, but as La-a. It looks funny, but when you say it aloud it's pronounced La-DASH-a.
I began counting the bills silently to myself then leaned backward reaching down my underwear for the bill that slid from my hip down to my groin. I sighed as I folded the bills and and shoved them in my bra grabbing my real clothes off the clothing rack with the rest of my outfits.
I stumbled in my huge heels to the pay phone jamming in quarters swearing under my breath when I dropped them. I punched in the numbers angrily.
"Hello?"
"Kaye?" I asked.
"yeah?"she responded on the other line.
"It's me; Angie can I stay at your house tonight?" I begged pleadingly.
She sighed. "Whatever...I'll be there."
"Thanks," I said, but she had already hung up.

I shivered in the cool night air when my best friend, Kaye pulled up in her blue Grand Am to the curb. I hopped in as the lights slowly came to life illuminating the scowl upon her face. She was NOT happy to have to come pick me up and have me spend ANOTHER night on her couch.
"I'm sorry Kaye, but I have no other options…"
She kept the scowl frozen on her face as she glared at the windshield.
"Come on...please don't be mad at me; at least I have such a good friend like you."
I gave a friendly smile that she ignored. I sighed and threw my weight back into the seat.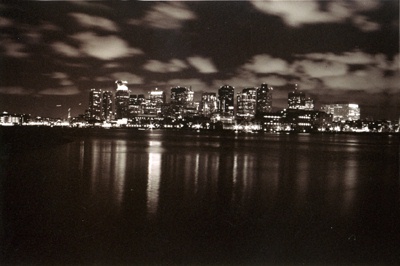 © Hoang P., Rochester, NY