Take Me Wind
September 11, 2014
I wake up at 7:00 to the screaming of my grandpa downstairs in the kitchen. My eyes are kept shut as my brain in turn screams at them to open so I won't fall asleep again. But my body just curls up against the comfort of my covers.
It's funny -- my pillow never perfectly cushions me until I need to leave its embrace.
I am half awake at 7:10 as I stare at the handwritten note tucked in between the pages of my Modern World History textbook. It threatens to be eaten by the thick army of pages surround it. I stare at the small corner of the note peeping out. It wasn't too late to burn it. It wasn't too late to just shred it, crumble it, destroy it. But it was too late to change my mind.
I took out the note and saw the furious scribble of my own emotions. My English teacher would say that such beautiful words should not be constructed to form such hateful meanings, but my mother has also said that beautiful girls like my sister wouldn't have hateful thoughts...
Anger burned inside me again. The more I concentrated on it, the stronger it grew. I needed to get out of this house.
I grabbed the schoolbag, the one that had been pushed onto the ground so many times, beaten up and worn. It wouldn't be long before I suffered the same fate. I needed to get out of this house.
I walked down the stairs clinging onto the rail to keep my legs from running forward to the door. To keep my hands from cooperating and turning the lock on the brass doorknob. 
I trudged into the kitchen, greeted by the back of my grandpa washing his hands. Without turning, I could feel the cool gaze of my sister as she sipped from her coffee mug.
"Jay, I accidentally opened this letter from the school thinking it was for me, but it turns out it's your from your teacher, saying you skipped school several times this week," She blinked her glossy eyes innocently, "It couldnt' be true, could it?"
Grandpa gave me a disapproving frown. "Expect for your parents to have a speak with you today. Why can't you learn from Talia?"
My lips pressed together. If only he knew.
If only he knew of the times I had been pushed down by my sister underneath the stairs at school. If only he knew of the times my sister chased all my friends away. If only knew how she had cracked my being and crumbled my spirit. Reduced me into nothing. But he knew nothing.
And I told him nothing. He wouldn't dig in my room and find that hidden note or read my diary. But he wouldn't believe me either.
I walk through the hallways of school facing straight forward. I feel the vision of people staring at my flowy black dress. It resembled a funeral dress more than a little black dress. It showed purple bruises and scar lines. I didn't care. In heaven their opinion wouldn't matter anyways.
I walked up the stairs to the roof. The wind lashed my hair into my face, as if telling me that this area was forbidden. It caught onto the layers of my dress and made me feel weightless. Slowly, I crept towards the edge. Would my sister's car be making its way into the parking lot now? Would she see what she has done?
With one last look at the wretched world, I spread my wings and let the wind take me from my life.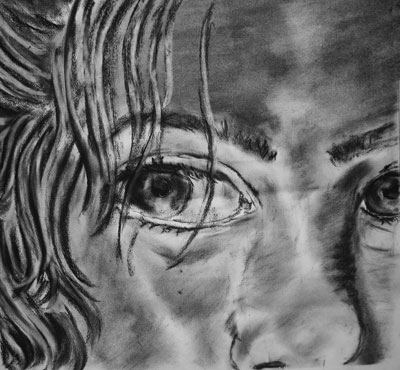 © Brooke W., Weston, MA