Central Park
October 22, 2014
Central park, New York, 12:30 P.M.
"Who's Jared? Why does he keep calling you?" asks Alex  in his best attempt at a whispered interrogation.
"He's just a friend," Vanessa lies, avoiding eye-contact with her highschool sweetheart, who isn't much of a sweetheart at all. She squirms uncomfortably on the splintering park bench and pretends to shiver as an excuse to put her hands, and her ringing phone in her pocket.
"Why do you even need him as a friend? You have me. I'm supposed to be your everything."
A few yards over, Alyssa, a nineteen year old aspiring Broadway star, now spending her days, and even the coldest nights, not only off the stage, but a minimum of 100 yards away from her newly proclaimed ex-boyfriend's property, as she watches the whispering couple in envy. The problem with Alyssa is that she takes song lyrics to heart, which isn't always for her own good, especially once she tried to make her former lover think before he cheats, and dug her key into the side of his pretty little souped up four-wheel drive. She can't help but wonder if anyone will ever love her. Don't get her wrong, she's not hard on the eyes, but she can't seem to find anyone who loves her for what she's actually like as a person. Of course, she's majorly impacted by the media, and moved to New York with the intention of being famous, but she once believed that there was someone out there for her, and now she's not so sure.
On a bench under a large oak tree, about two paces from Alyssa sits Carl, a 21-year-old art major, deep in concentration of his newest, and unaware model. From his sketch, anyone could tell how beautiful she was, but there was something about her; Carl could tell that if he only had the courage to strike up a conversation, he'd fall for her. He's not a shallow person, and he's a firm believer that there's no such thing as love at first sight, however he was sure it could be love at first intellectual conversation...
Behind the oak tree is Rick, eyeing his newest victim. He glances at the man's smartphone, unlike the man who has been too focused on his drawing to even remember that his phone is next to him. Perhaps he won't even realize if it's gone...
"I have him in sight, do I confront him?" Officer Pat Madison whispers nervously into his walkie-talkie as he watches the alleged Central Park Pillager begin to approach what seems to be his next victim. Everything is alleged at the moment, after all he's innocent until he's actually proven guilty, and it's hard to prove someone guilty who's never been caught in the act. He's beginning to wonder if he should've dropped out of the police academy before he was in over his head, after bragging at his 5-year highschool reunion that he was on the road to being chief of police. He was just trying to impress the former ice-hockey team that used to call him Patricia. They all had the intention of graduating high school and fulfilling their dreams of becoming professional hockey players. But he's already read multiple police records on the class of 2004's dream team, who have been brought up on countless drug charges, as well as two stabbings. However one member of the team ended up fulfilling his once-hidden dream of becoming a professional ribbon dancer... but that's beside the point. He has a pillager to catch.
Central Park, New York, 12:31 P.M.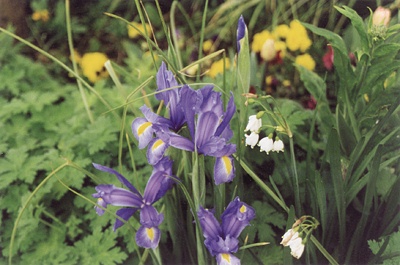 © Kelly G., Norwell, MA