Deception in The Purist Form
November 14, 2014

Today is the big day. It's the day I have waited for ever since I left you, two years ago. It's been 730 days since I've seen your face. It's been 17,532 hours fighting in this crude war. I know that today though I will be overjoyed and ecstatic to see you. I know thousands of people will be here in their red, white, and blue, but I'm sure I can spot you with ease. Celebrations and packs of parades will consume this hot misty summer week in July.
There are as many people here as in a stadium on Super Bowl Sunday. As I walk into my house, I wonder where my family is. No matter, I am finally home in New York. The Big Apple is what I hear people are starting to call it. I can't wait to march through Times Square and be surrounded by millions.
As the parade commences, this enthusiastic feeling burst inside of me that reveals the missing piece. I can feel love and passion rushing back as I see your glistening smile and amber eyes. I'm looking at the love of my life. I see my beautiful wife with our two year old son. This woman's heart beat is in symmetry with my own and I see the joy that our new son brought her while I was gone.
As I begin to run to her, my knees buckle. My wife is being held by an unknown mystery man. He is wearing venom black with a cloak of despair. My wife is wearing a heart bleeding red dress with pure white stockings. He grips her tightly and kisses her with deceivingly passionate lips. At first I thought she was caught off guard by some crazy man. However, my eyes burn, fading away as I could see her lift her leg up like a giddy girl in high school who just got her dream kiss. In the midst of it all I heard our son call him Dad.
I feel like I just lost my wife in the clutches of this unknown ominousness figure. The way he is holding her looks like the devil cashing in a soul. The way my son smiled and enjoyed his hold shatters my heart. I feel like there is no escape from this grasp of betrayal. This man will be the catalyst of my downfall; the ultimate reason why the bond between my wife, son, and I shatter like a vase. I can barely stand straight. My body is frozen with numbness and I sink to the ground like slippery ooze. I have lost my family forever.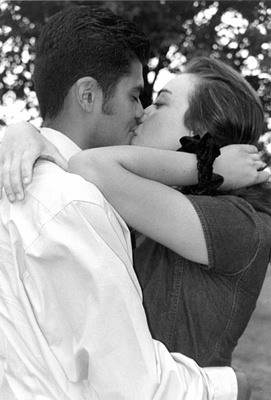 © Yaniris M., Boston, MA