The Gap
February 22, 2015
A recent boom in population prompted real estate to spring up in the fashion of penguins huddling in the harsh Artic winds. Houses and blocks of flats (all of the similar square, pokey and single colour breed) sprung up within inches of one another. "Economy of space" they called it, Ah! I tend to think that it is more like "Space for Economy".
I am moving into one of these mouse-holes they call entry-level living. "A bargain!" the perky, pointy-nosed agent told me, "A real steal for a man starting out on his own." This is despite the fact that I have been on my own officially (ask the tax-man) for nine years already but I would testify that I've really been on my own for much longer. It is my clear smooth skin, undefined muscle tone and cheap haircut that always seems to throw folks such as bouncers, old ladies and sales people. Although I guess the sales people do it to everyone as nobody (except precocious teenagers) dislikes being told they look younger than they are. So I just smiled, thanked her for her marginal assistance, and took the standard metal key from her grabby hands.
I heave the last box, containing my meagre collection of cooking utensils, onto the mountain of dishevelled brown boxes, all proclaiming their contents in fading strokes as my permanent marker's ink supply dwindled to nothing during the christening of said boxes. My back aches after climbing four flights of stairs (I'm guessing another corner was cut when they installed the fell-of-the-back-of-a-truck elevator) and the weakening sunlight laboured to pierce the two grimy windows that looked in upon the kitchenette/living room and out upon another grimy window set in a soot-singed brick wall. I strained my eyes; it seems that when the sun sets around here it does it fast, like an introvert at a party it wasted no time doing the polite inch towards the door but rather it scurried out, mumbling a farewell.
Flicking on the light, the fluorescence gave the small space a slightly more cramped feeling (if that was even possible) and I noticed, without surprise, that only two of the four bulbs in the ceiling were working. No doubt that ferrety real-estate agent was ordering a glass of white wine with her commission and gossiping with her hunchback middle-aged cronies, about the dummy that she had got to move into 506 Arcade Apartments. I am not offended, people make assumptions all the time and they are the ones living with the distorted reality, not me. I don't consider myself stupid for renting this place; I was desperate, short on money and I don't want to rent an apartment that I can't afford so I have to get a room-mate. I don't do room-mates.  
Staring at the boxes, all looking as equally uninterested in being unpacked as I am in unpacking them, I push a few of them aside to make a path towards the bedroom. More depressing fluorescent bulbs light up at my touch. The mattress, a queen, fits into the room as cookies fit into a tin.
It looks like the room was built around my bare lumpy mattress and that makes me feel strangely at home. This room was designed so that I could live here and that gives it a special aura like when you meet a kindred spirit on the bus. Enough with the two-cent philosophy, I am tired and I need to sleep on that thing.
I go back into the other room and hunt for a box that that had been marked "BEDDIN" (the G is so faint it hardly counts) and I find it acting as a pall bearer for "CLOHE" and "BATHRO". I spread a sheet over the bed (I don't bother with tucking in the corners…too tired) and throw two blankets and a pillow on top as I push off my shoes with my feet and kick them into a corner. Stripping down, conscious and uncaring of the smell of perspiration those three hours of moving bought me, I flip the switch and collapse onto her majesty.
The room grew stuffy very quickly and I groaned as I shut my eyes determinately…I will not get up; I will go to sleep now. I get up and crawl towards the side of the bed underneath the single window. I angrily pull up the blinds and thrust the window open. It shoots up smoothly (this does surprise me) and a gust of cool summer air hits my face. I am looking at the brick wall; it is a metre away from me and so is the window placed squarely in it. Like mine, the window is open, yellow curtains rustling on the edge, threatening me for a reason to jump. The light that pours from the small room (looks like it might be a bathroom) matches the curtains, warm and golden. I hear running water…definitely a bathroom. Suddenly a voice leaps into being: "Why do you build me up? Buttercup baby, just to let me down and mess me around!" she sang, for it was definitely a girl's voice. The voice warbled slightly on "around" but maintained its fearless volume as the singer launched into the next phrase, "And then worst of all! You never call," now a pause before, "baby when you say you will!"
I'm grinning now with my arms resting on the windowsill marked with the ashes of cigarettes of aspiring poets, musicians, writers and actors who had never reached the bravery and freedom composing at this window that the girl and her voice proclaimed from across the gap.
A towel swaddled head appears in the window's frame and I duck instinctively until just my eyes breach the sill.  I of course realise that this gesture, if seen, has made me look even creepier than if she had seen me half-leaning out of the window. For that I could have made an excuse; I dropped my washing line, glasses, cell phone…cat?
She didn't see me, thank god. The profile is neat; the bridge of the nose straight, the forehead gracefully curved and the chin subtle but there in an un-English way. She flips her head forward and the towel relinquishes the short dark locks that curled and twisted against pink cheeks. I can see that she is dancing on the balls of her toes as she brushes her teeth. I'm smiling again; suddenly I feel a great rush of gratitude for all those money-grabbing real estate development companies, bribe-accepting zoning officials and euphemism-loving real estate agents. Those companies designed these windows so that I may catch a glimpse of her; those officials ensured I would be only a metre away from her window and cheers to that nasally woman who declared that this "is the only possible available apartment in my price range". They had facilitated the possibility of this small gap between us, between our lives, between our possibilities. Now all I have to do is cross it.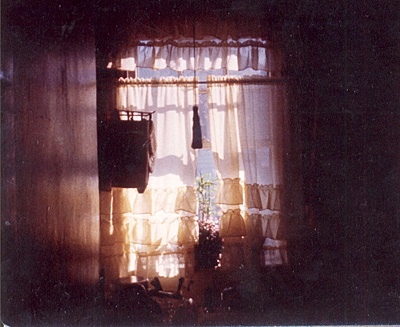 © Michael G., Glocester, RI