A Winters Night
July 10, 2015
"Make your body light!" My sister calls out beside me, over the the strong wind. "Allow the wind to carry you!"
"I'm trying!" I shout back. "The wind just refuses to move me!"
Meghan is so far ahead of me now that there is no way she heard what I said.
Tired of just waiting, I make my own luck and force myself to slide along the ice until the wind finally decides to pick me up and carries me down the street.
By the time I get to Meghan's side, I am buzzing.
"I know you cheated!" She laughs.
"You don't know s***!"
"Fine then!" She says, turning to face me. "I'll race you to the end of the street!"
"I don't think the wind's strong enough!"
"You just know I'm going to win!"
"I'm in!" I yell, the wind starting to pick up.
I might just have a chance.
Arms extended out on either side, legs just barely separated so that there's enough of a base so I don't fall, I am in the ready position. And with Meghan's cue, we are off.
Meghan takes the immediate lead, but the wind changes in my favor and I am catching up.
Just as we are both closing in on the intersection, the finish mark, a pair of headlights quickly come barreling down the overlapping street.
"Meghan!" I call out in warning, fighting the howling wind.
I watch as she slides into the middle of the intersection, throwing up her arms in victory. Before I know what has happened, a snowplow sucks her frail body beneath it. Even from where I am standing I can hear as every one of her bones is crushed.
The driver keeps going, apparently not hearing my shouts or the crunch my sister's body made.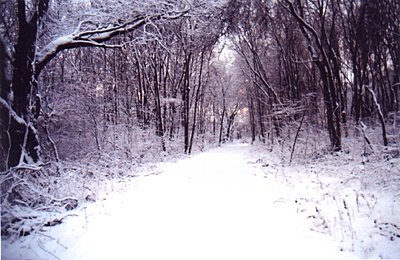 © Thomas W., Scituate, MA