The Smell of Smoke
July 10, 2015
The very tips of Molly's fingers glide over the black leather cover of her daughter's journal.
Does she do it? Does she invade one of her 15 year olds only privacies?
Molly isn't given the chance to answer her own question as she hears the front door open and Sydney's giggles, no doubt some boy hanging by her side.
Hurrying out of the room and closing the door behind her, Molly almost runs right into the pair as they are coming up the stairs.
"Hi guys," Molly says, forcing herself to smile.
"Hi mom," Sydney grumbles, pushing Molly aside as she rushes the boy to her bedroom.
Before Sydney can get very far, Molly grabs her forearm, excusing her from her house guest.
"What?" Sydney snaps, once they are all alone.
"Where have you been all day? You left before dawn and," Molly looks down at her watch, "it's almost midnight."
"I was out with Lucas and some friends," Sydney responds, tearing herself from her mother's grasp and joining Lucas in her bedroom.
Molly tiptoes back to her bedroom, making sure her husband wasn't awaken by the little spat. She sighs in relief as she sees him still sprawled out across their bed, sound asleep.
Too awake now to go back to bed, Molly finds herself cleaning the dishes from dinner until the sounds of the squeaking bed above get too much for her to handle and she steps out into the crisp autumn night. She looks around for any of the neighborhoods judgemental housewives before taking out a cigarette box, hidden in a pot of flowers.
Lighting a cigarette with a match she retrieved from inside, Molly waits on the porch late into the night. Not going back inside until Lucas leaves just as the sun is coming up.
Just as Lucas is about to slip out of sight, Molly calls out to him, "Where do your parents think you are right now?"
He looks back at her and shrugs. "I don't know. Both of them like it when I'm gone so they don't ever ask. I probably could never return home and they would forget all about me instantly."
"Do you really believe that?"
He nods. "Sometimes I feel Sydney doesn't get how good she has it."
"Thanks," Molly says. "You're free to go."
Molly is just about ready to rub what Lucas just said in her daughter's face, but the whole scene is perfect and she knows the encounter would ruin everything, so Molly decides against it.
Back inside Molly doesn't even attempt to crawl into the same bed as her husband, instead making a comfortable enough sleeping arrangement on the couch. Her head propped up by a pillow, Molly watches as just moments later her daughter sneaking out to join Lucas who is now waiting for her on the side walk.
Molly tries to find a way to stop Sydney, but by the time her exhausted mind can even find the words, they are already gone. Though the only thing that runs through Molly's mind is when either of them get any sleep.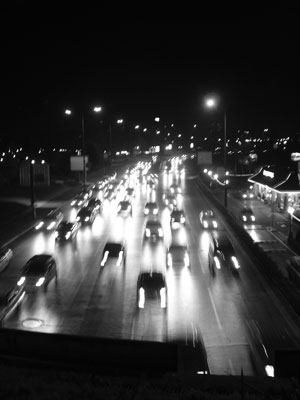 © Marietta S., Pleven, Bulgaria