I'm a Kleptomaniac
July 25, 2015
I couldn't control it. I couldn't resist it. I couldn't defeat it.
The party was getting wilder as the seconds slipped away from the clock. My hands began to tremble due to my resistance. Glancing around to make sure no one was noticing, I grabbed the nearest thing to me and slipped it in my pocket. What it was didn't matter,all that mattered was the fact that I stole it.
That was my temptation. Stealing something. Anything. An impulse I couldn't control.
I was a Kleptomaniac.
But soon enough, I feeling of guilt began to surge through my veins. My conscience began to consume me, for being so emotionally frail. One part of it said 'It isn't your fault. You just have a disease.' Another part said, 'How the hell can you do this? Why can't you just control your dumb temptation?'
With sweaty palms,I walked over to my best friend and tried to act normal. Julie gave me a grin and pointed to her sister.
"Dude Lily gave me this awesome bow. It has my name and hers on it in silver print," she sounded ecstatic.
"Girl that's so cool! Can I see it?"
"Yeah sure. Its on the side table."
I was electrocuted by 100 volts of utter horror. I took something from that table without even looking. 'Hopefully,it isnt the bow,' I thought to myself.
She walked up to the table and frowned. "What the heck! It was right here a moment ago."
I slowly reached into my dirty pocket. I gulped.
"Uh it's no big deal. Maybe you put it somewhere else on accident Julie." Julie didn't seem fascinated by my theory.
"Could you help me find it Lora."
I nodded. All I had to do was pretend like I was searching for her bow and then pretend to find it somewhere. As for my stealing temptation, I decided to steal something of little or no value. Kleptomaniacs don't steal because they want to, we steal because we feel like we need to. We don't try and steal precious objects or things we like. Anything works.
The plan was executed perfectly and Julien thanked me like a million times. I still felt uneasy about stealing their hand soap, but my kleptomania had taken complete control over my moral and ethical values.
At school the next day, I saw Jules listening to music in the corner of the Rotunda. That was not typical Julie behavior.
"Hey,everything ok?" I asked with my voice full of concern.
"Yeah. I'm ok, But are you?"
"What?"
Julie gave me a somber look with her turquoise eyes. A look that could make Santa Claus turn his reindeer into lions.
"Jules what are you doing?"
"Did you like my bow that much?"
At that point, all that was running through my mind was the fact that I needed to go to a doctor, one that treated me better. My kleptomania was going to cost me half of my soul.
"Listen I didn't.."
"Lora,I know you didn't mean it. You have Kleptomania."
I nodded a little, in embarrassment and relief. But then curiosity smacked me in the face. How did she know?
"My mom has kleptomania dude. Chill out a bit. And could you give us our soap back?"
IfI had a penny for a single shock I got everyday, I would be cruising on the Venice River.
"So,you knew all along?"
"Maybe even before you did. And hey, you're a freak. But you're the coolest freak I know,aside from mom."
"Gee thanks. You're the freakiest freak out there Jules. For a number of reasons," I rolled my eyes and laughed. " Anyway, why didn't you tell me you knew about my disorder."
"Because you felt better pretending like you didn't have it, cause you felt better that no one knew about it. But Lora, these days you're finding it harder to pretend. So I figured now you'd feel better knowing that someone knows. Minds change at teenage right?"
She smiled.
"This is just another day in the life of a kleptomaniac. Right Jules?"
"No. This is just another day in the life of the greatest friend I've had, Lora Klimen."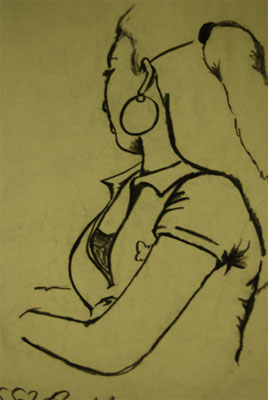 © Janessa B., Kannapolis, NC