My Life As A Dog
March 30, 2016
It's a simple life, the life of a dog.
I should know.
I was bred in the yellow ethers of March, in the purple bloom of a diamond field.
I still remember my parents, raggedy and brown, dirtied with slime, with pond life, with love.
I was the runt of the litter, a small pup, insignificant. I blinked my dark, orb-shaped eyes, and took in the golden light of the sun, the grey mist of the green fields.
Abandoned.
A rough segment of time forced through, obstructed spiky      stars and a heart-shaped moon, fell through the warm, velvet sky and punched me in the gut like a tennis ball, like a fist.
A hard life, as they say.
*
My real life as a dog began when I was adopted.
A nice couple; poor but sweet, strict on food but lenient in       love. I loved them, their pet, their replacement child, their everything.
I was lonely often, left to entertain the red threadbare carpet while my foster parents worked to the bone, until their hair      turned white and their teeth crooked.
My life as a dog quietened then. I was taken on less walks, handed less chores, treated like a burden. I had become the    grandparent, the dependent.
Still, they cried when they had to go to the Vet's. Patted my    old, shaggy hair in the startling midst of a light blue sky,         gazing towards the candyfloss clouds. I wanted to eat them,      but I was too tired, too hairy.
The vet wasn't a very nice man. He said I was dirty. He said   something else I didn't understand.
It made the lines on my parents' foreheads expand, contort together like elastic bands.
The vet's face was grim, terrifying. My dog hairs shook up        and down over my spine, or maybe that was the sickness.
Mummy and Daddy looked at me, then.
Petted down my fading wisps of hair, and looked into my        ancient, innocent eyes.
'See you later, Bud,' my father said, and my mother gave him a nudge. Whispered it was time to leave.
Why were they so disturbed? What was the meaning of this? Was I no longer wanted? Would I have to have a new mummy and a different daddy?
The door banged shut on my father's grave face. She            seemed relieved.
The vet turned to me, plastic hands sellotaped on, just like his strangely garish smile.
'Right,' he said calmly. He drew up his sleeves. I trembled.
Ouch. A sharp pain, an injection. Shudders.
The fading bright light, winking steading out of focus,                  a hand waving goodbye.
A yelp, a swallow, a prism of memories.
Then darkness, and my life as a dog was extinguished like a dying flame, like smoke…spirited away.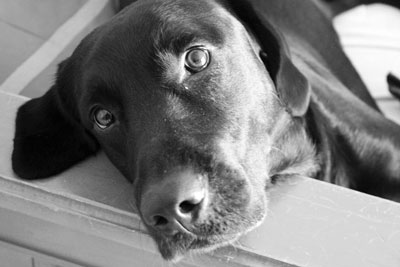 © Lindsay L., Snohomish, WA