The Place We Called Home
July 10, 2016
   My mother's house is my childhood time capsule. Upon the peeling planks of wood we called steps, I see a six year old twirling in her fluffy pink tutu, charmed by the tiara sparkling on her head. I smile at the joy of her innocence. When anything could make her silky cheeks crinkle into a laugh. 
   Through the mahogany red door I see another first day of school picture take place on the stairs. Her eyes used to be red with tears from hatred of a dress and tight shoes. But she stands taller as the years move on, growing into her signature style of jeans and a t-shirt.
   The kitchen is stained with the smell of numerous scrambled egg breakfasts, along with the immovable checkered backsplash. The ring stains on the table remind of strategically placed casserole dishes and late night conversations.
   Up the winding staircase to my bedroom, I pass the mustard yellow bathroom, equipped with standard rubber ducky shower curtain. I see my seventh grade self with crimped hair and purple braces. But my tenth grade self bumps her aside and naively straightens her mother's inherited chocolate curls until they conform with the newest trend.
   My bedroom door is closed, and I can still hear the infamous slam. The thud as it stops against the fragile frame. A muffled yell threatens, but the teenager inside presses stubbornly into the barrier between them. The turquoise blue walls were the only faces to see her cry and the flower quilt soaks up her tears as she surrenders to the day. Her bookshelf collected volumes of stories to fuel her imagination, and pages dog-eared to revisit her favorite parts. The window served as her surveillance into the yard as she spun around in an olive green desk chair, chatting for hours into the home phone.
   It was from that window where she spotted the mail man, sending her tumbling down the stairs and sprinting out into the yard. She ripped at the gold seal and shrieked of her acceptance. I grinned at her excitement to experience the world, so big and new.
   But as I watched the porch pile high with her belongings, I wish I could have told her not to take it so lightly. That the day the trunk snapped shut was the day she'd leave forever. Should have hugged her mother tighter and saved the eye roll for her last staircase picture.
   But as much as I want her to savor it as she pulls out of the driveway, I know who she'll grow up to be. And she'll finally come back to the place we called home.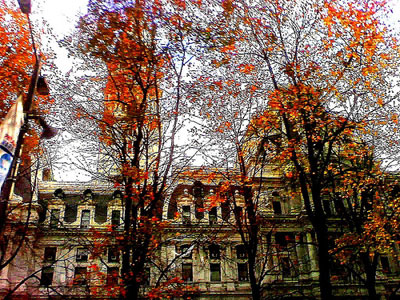 © Jayda S., Jessup, MD