psychotic episode #6
August 25, 2016
I went to Goodwill and bought a pink satin nightgown with bloodstains covering the back. They sang dark brown, ringed in deep green, and I wore it for five days without a single wash. I fiddled with the pink cloth buttons over my breasts, bruised and swelling; I wrote poems about the person who owned it previously. I wonder if I am wearing a dead woman's slip. I think, perhaps, that she would have liked the way pink looks against my dark hair, my pale skin, the babydoll flush of my cheeks.

I fell asleep on Sunday at three in the afternoon, the red sun wet and burning just outside my window, baking my dead plants into decay. I woke up when the moon was low and heavy, streets silent and stone, my television spitting laugh tracks like my father would spit tobacco on summer days.

My bathtub drips gooey black water, reeking tar and stinking coal, but I slide in anyways. My bones ache so badly; they long and snap and scream for rest and I hush their hungry hearts until the water warms. My limbs sink and spread, uncoiling like silver snakes in black ink. They swim through the sewage, unbothered, and I watch their bodies move with ease. I scratch the scales from my hands, flakey and green. They fall into the water below and fade away.

I stole a bottle of italian soda from Whole Foods, even though I had thirty six dollars tucked into my purse. I ran with it tucked in the right side of my grandfather's favorite sweater, purple wool stretching in all the wrong places. I broke the cap off on the side of a steel bridge, cold and rusted; I gulped grapefruit until my stomach bloated and sloshed with each uncertain step forward, into the run-down part of Shadyside, the buildings short and long like limousines.

I sat shivering on the kitchen floor, swimming in unpaid bills and empty yogurt containers. My dishwasher churned, stopped, restarted, smoke puffing from the sides. The lights went out a long time ago, so I held my phone in a shaking hand and stared at the letter from the electric company. I wondered if dishwashers could catch on fire. I thought about how the milk I drank with dinner was expired. I folded the page into a little paper swan, sharp and white, my kitchen tile making those funny imprints all over my legs.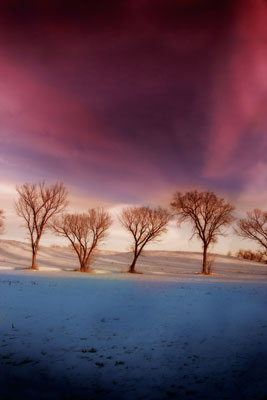 © Elizabeth H., San Bernardino, CA