Love Letter from a Burning Building
January 8, 2017
Remember when we made snow angels on the pavement outside grandpa's house? You giggled through red cheeks pinched with silver crystals and let yourself fall straight back into a cloud of pillow fluff. And it billowed around you like a thousand stars and I watched them sparkle in your small eyes, like we plugged in a string of Christmas lights and wrapped your pretty brain in them. And we laid there, your tiny shoulder next to mine, your brain twinkling, our mittens pointing at specks of the swirling storm and passing airplanes. And you snuggled your freezing chin into the hood of my big red coat and clambered onto my back, and I hooked my elbows around your knees and bounced you all the way to the front door.
Do you remember? In the heat of the bathroom, I peeled wet socks off your feet and slapped your toes with them and we chased one another across the kitchen floor with dripping clothes, swinging undershirts and longjohns until mom promised us hot chocolate if we stopped. Of course, we agreed. And she made it with store-bought marshmallows and cocoa powder from a blue tin, in those mugs we painted at the ceramic shop downtown. And it was delicious. Sweet. Warm.
You could tie that day up and give it as a present. Wrap it with the stiff gold ribbon mom gave you for your fifth birthday. You know, the one you've worn in your short hair everyday since. Even when that ugly kid with braces said it looked girly. I thought you looked beautiful. Wrap it with all the tissues you ran to me when I was sick in bed, along with the steaming vegetable soup and corn chips. Sew the thin papers together with the floss I taught you to use when you were four and wanted your teeth free of broccoli and cavities like mine. Wrap up my favorite day with the ribbon and tissues and floss and tell mom to tuck it away, under your bed, with all of the ornaments and tinsel.
You're too small to know much right now, baby boy. But ask mom in a few years. About what happened to me after that day. You'll watch her hands go still. Her eyes will burn. She'll try to cover it with the cough she has from working too late in those chilly nights. She'll try to smile. But you'll see through this. You'll remember the square of wood she nailed into the hole in the attic. The open mouth in the roof where it swallowed the summer months of rain. And she stood beneath it, her face to the clouds, letting the world dribble on her hot skin. Letting it cool her eyes. You'll see the memory of the things she imagined, the thick smoke suffocating her dreams at night. You'll see how the beds of her nails turn pale.
You can rub the warmth back into her fingers. That's right, just like you're making a fire. And you can dig under your bed for that present you wrapped so many years before. It's behind the dusty Star Wars poster still encircled in plastic, and the tiny worn snow boots that you haven't put on your feet since I left. See? That day's still there, all tied up and ready.
And when you have it in your hands, gently tug off the ribbon, and carefully tear the tissue from its floss stitches, and bring what's inside to mom in her bedroom. Curl up with her under the heavy cotton sheets and hold that day between the two of you. That day right in the middle of December when the wind was cold but our hot chocolate and coats were warm. And you and I made snow angels. And after mom has fallen asleep, you can go outside and see that the dew on the grass has frozen over. And you can think of me.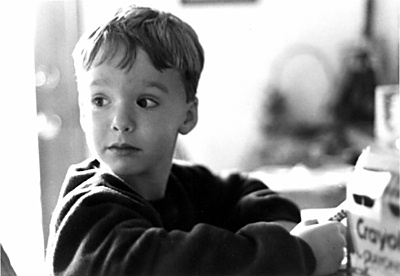 © Caycie G., Rochester, MA