I am Lacey
June 30, 2017
I am Lacey, 26 years old living in Montana. I have autumn brown hair and brown eyes. I look ordinary. I am not ordinary. It all started 19 years, 363 days, and 7 hours ago. It was 8:00 AM and my mother was about to drop me off for my first day of second grade. My sister and best friend was next to me. She was about to go to her first day of kindergarten. My mother had put me in charge of making sure she found her way and I was prouder than ever before. We pulled up to the school and my mother turned to Cherish and I. She gave us a kiss on our foreheads before we hopped out of the car. I took my sister by the hand and led her inside.

After Cherish was delivered to her Kindergarten teacher, I went across the hallway to my new class. I told the teacher, Mrs.Whitecotton to take care of my little sister, I made sure she understood that I was in charge of keeping her safe according to my mother. Cherish was my everything and she wasn't going ave anything happen to her on my watch.

As the day crawled along, I grew more and more anxious to get home. By the time 2:00 came around I was already half out the door and running to my sister. I found her saying good bye to Mrs.Whitecotton as I burst through the door. My sister ran to me and Mrs.Whitecotton smiled at me. I looked at her suspiciously as Cherish and I walked through the big wooden door hand in hand.

We walked outside into the mess that is elementary school pickup. I looked for my mothers red minivan and spotted it across the street. I waved at her and she smiled at me with love in her eyes. She looked worried. A car started moving which started to clear the busy street. Her eyes spotted Cherish next to me and she was obviously relieved to see her. My mother blew a kiss to Cherish which caught my sister's attention.

Cherish tugged on my sleeve and I hearn the stiches start to break. I pulled her off as she started yelling, " Mommy's here! I can see her." I was unimpressed and rolled my eyes at her. "Cherish, I saw her way before you." Cherish's face turned into a pout and her lip started to quiver. Her eyes filled up as she screamed for Mother. She darted towards our car.

I have been told that I screamed her name and ran into the street. I have been told that I was shocked and stayed where I was. I don't know. The next thing I remembered was sitting on the hospital waitng room floor screaming. It was the first time since the accident that I had known what was happening. I had been blinded and when I got my vision it was just darkness. I had just been told that my sister had died due to internal bleeding. When I was in charge. My mother was in a chair near me with her head in her hands. Father was stone faced.

The funeral was two weeks later. My mother hadn't talked to me since the accident. I mostly stayed in the living room watching tv and wallowing in grief. Mother stayed in her room. Father in the garage where he had his wood working studio. Nothing was the same. Nothing was right. Father tried to make me go back to school. I couldn't. Not yet. I was simply existing, I wasn't alive.

My mother loosened up over the next three years. She would eat downstairs, have conversations, even take me to  school sometimes. Otherwise she stayed in her room. I snuck in there once. On her bed there were tissues and pictures of Cherish. The curtains had been ripped off of the wall and torn to shreds. She was never truly happy where she was, I could tell. This morning was different.
When I went downstairs for breakfast she was already downstairs. She watched me eat my Captain Crunch and then she said something that changed my life. "Lacey, I'm pregnant." I dropped my spoon into he milk and the splash seemed to play in slow motion through my head. I turned around from my chair and paniced when I realized the chair was falling. The last thing i saw was my mother running to catch me before everything went dark.

When I woke up I felt my mothers hand stroking the hair out of my face. My eyes fluttered open and I pulled away. I grabbed my bag and walked to school.

I didn't go to school to learn, I couldn't pay attention today. My teacher tried to keep me in from recess to talk to me;  I ran out. I finally came back to Earth when Christi nudged me and told me I had to go to the office. Everyone stared at me.

When I reached the office my father was waiting for me. He tok me to the car and then started talking. I didn't hear anything until he said, "Lacey, did you hear me? Its a girl!" My eyes welled up with tears and I jumped out of the car on to the colorful lines of the school parking lot and sprinted home. I hid in my room for the next 5 months. I ran downstairs for breakfast early andgot to school before anyone else. After school I went straight back into my room. They tried to talk to me. I wouldn't let them.

The night she gave birth I was dragged by my hair from my room by my father. I was 11 and thought that if we couldn't go to the hospital then my mom wouldn't give birth. I didn't stand a chance. I sulked in the waiting room for 3 hours when they finally came out. They were happy. I was not.

Now I am 26 and it is 15. I try not to speak to it as much as I can. They named it Madaline, but I refuse to say its name out loud. I hate it. It tried to replace my Cherish. Nothing replaces my Cherish. It knows I want her dead. It hates me too, thats ok. I remember when it was small, trying to make me play or talk. I would never. Now its learned. Thats good.

It should've known not to come with Mother and Father to visit me here in Montana. It should have made an excuse. I don't like it in my space.

I heard it throwing up. I stood up and went to see if it was making a mess. It was, all over my couch. It looked at me, "Food?" it asked. I turned around and walked to my kitchen where I had everything. I poured a bowl of applesauce, spilling slightly. I opened my cabinet to grab a paper towel and my gaze settled on a bottle of ant poisoning. I grabed it and poured some in.

When it saw them it knew it would hurt her. It didn't panic. It simply said, "Are you sure you want to do this?'' I paused before nodding my head. Did I? Did I want to kill someone? My Cherish died 20 years ago. Should I be over it now? My parents had surely moved on. It didn't choose to be here. No, I wouldn't do this. No. I ran back to the kitchen. And threw the bowl out the window. I heard it break and saw the glass shatter. I ran to my room. I heard her in the kitchen.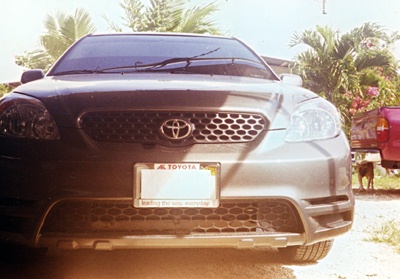 © Warlito B., Tamuning, Guam