Betty's Retirement Home Original Adventure
August 1, 2017
My name is Betty. You probably have a grandma just like me. Old person in her 90s that enjoys knitting in her senior citizen home. But there's something that no one knows. Past that sweet gray hair, pink flowered blouse, and baggy sweats there's something dark inside. I used to be the great Adelia King, movie star, fashion icon, and doo-wop singer. After some terrible things happened I faked my death, changed my name, moved to a small town in Nebraska, and got fake glasses. No one ever realised it was me. Until my diary disappeared from my room.

That diary had everything. From the brainstorming of deaths for myself to all of my old man crushes. It really wasn't a diary, just hundreds of papers stapled together. I kept it locked in my nightstand table and wrote in it everyday I hadn't stapled my last entry in yet and it read:
10/9/16    Today Walter and I shared a milkshake at the pretend diner the employees put together to remind us of our younger days. Walter even winked at me. Yesterday I told him I kept a diary and I think it made him feel more comfortable with me." I hope so at least. Walter is the best thing since sliced bread.
My last husband Alfred who died 4 years ago wasn't even as great as Walter. I mean I loved him and stuff but he wasn't perfect. Keep in mind that Walter is completely awesome and my favorite person. Way better then the kids who ask for money but never visit and the grandchildren they keep a constant flow of producing. Am I really expected to send a nice card and money every birthday, Christmas, and milestone? Anyway, for starters, Alfred had the annoying habit of leaving opened cans of soda in the fridge then blaming it on me. There are only two people in the house, Alfred, and it sure wasn't me! Also, he hated my younger self. He always talked about how annoying and terrible she was. I didn't say it then, but it hurt. I only told him that was me on his deathbed. In fact he was in the hospital recovering from a stroke but, when I told him, he had a heart attack. Two days later after intense operations and many prayers, he died.
Walter would never steal my diary. He couldn't. He was in a wheelchair with a paralyzed arm and had trouble breathing. You can not possibly open a combination lock with one hand. My number 1 suspect is the manager of Sunnyside Senior Living Home. He's always had it out for me, you know. The first day I was here he forgot to feed me my prune juice at lunch. He gave it to everyone else except me. I got apple juice! Long story short, I threw a tantrum and he has never done a repeat. Good choice.
My other suspect would be Mae Agnes. She's my worst enemy here. She has been trying to steal Walter from me the day Walter and I shared our first lunch together. He gave me all of his prune juice! It was the best day ever!
As I was thinking about this day it brought up memories of my first marriage. Eugene. Tall, handsome, and famous Eugene with me, tall, beautiful, and famous Adelia. We got married after 2 years of romantic dates. The first year was perfect. He got a role in a huge movie and I realised a new chart topping album. Towards the end of the second year I got the sense something wasn't right. I saw him less and less. He was nervous and fidgety around me. After about a month of this I suspected he was having an affair, I followed him out to one of his trips in disguise. What I saw broke my heart. He was a cheater, with a raven haired, green eyed beauty.
I went home and ordered three pizzas and some ice cream and watched sad movies until he came home.
He walked in on me and knew something was wrong immediatly. "What's wrong?" he asked. "You know whats wrong," I screamed. "I followed you out there and saw everything!" He broke out in tears. We sat there for what seemed like hours. Finally, I got up, packed a bag, and left. I never walked back into that mansion. I attempted to sue him for breaking my heart and lost. He came back and sued me for wasting his time for a personal matter. I lost everything.
After that my private jet "crashed" on my way to Paris. I was actually on my way to Nebraska, on a United airplane, in second chance. It was disgusting.
I needed to focus about the matter at hand. My suspects were Mae and Gus the Manager. I would investigate this afternoon after a quick nap. I'd start with Mae. I went to her door and saw it was open a crack. I peeked in and saw that she was still in her afternoon nap. I saw the news was on. I walked in and sat on her bed to watch the weather before I left. I'd try Mae later.
My next suspect was Gus the Manager. I saw his door was also open. From my post in the hallway I knew he was talking to someone and was very happy about it. I peeked around the corner. Walter? Why was Walter talking to Gus the Manager? If it was Walter it must be safe. I started walking inside. They didn't notice me. Then it happened; the words "Here it says everything, I cant't belive she was dumb enough to keep a written recorf! Its like she wanted us to have evidence. Its all signed and eveything!" They couldn't be talking about my diary, could they? I heard papers shuffle and a long rip. My diary landed on the floor and skid towards me. I picked it up and sure enough all of the pages from my younger days were missing. How dare he! I waited until he rolled out with the rest of my diary. He saw noticed me standing there and jumped. "Betty, I can explain!" "You better."
10/10/16      I found the culprit of the stolen diary today. It was Walter and Gus the Manager all along. Apparently Gus the Manager's mother was a mega Adelia King fan and she had always wanted to reach me. Of course she thought that I was dead, but Gus the Manager had his suspicions. He wanted to suprise her with me on her 90th birthday. He did months of research and was led back to his own retirement home! He paid Walter as a distraction and stole the diary while I was at the diner with Walter. I am scheduled for a top secret 90th birthday party for Dorthy, Gus the Manager's mother. Walter has apologized and we are scheduled to be married in the diner next Sunday. You can't wait when you're my age. Also, from now on I will use at least two locks for protecting top secret information.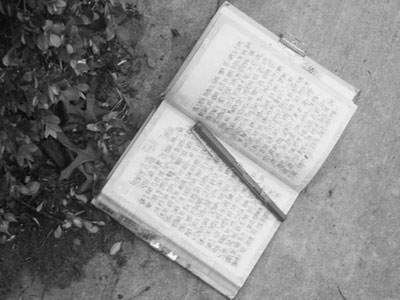 © Quinn B., Lubbock, TX