Mixed Nuts
April 5, 2009
Do I like coffee for the flavor? Well, let's put it this way: I like my sugar with coffee and cream. I mostly like the effects of coffee, which sometimes makes me loonier than a koala in a pine tree. But when I'm with my friends, I don't need the coffee, we get high off of life.

One day at the mall…

Tina, Kayla, Sam, and me walk arm and arm through the mall, laughing at nothing in particular and tripping at random moments. People stare at us as if we were high or something. And we are. High on life. We stumble from shop to shop trying to satisfy Sam's fancy for fashion, my love of t-shirts, Tina's stud-belt obsession, and Kayla's fetish for all things shiny. Some light cajoling has Tina marching into Victoria's Secret, with the three of us in tow and walks right up to the register and demands, "Who is this Victoria person, and what exactly is her secret?" in the straightest face she can manage. A lady behind us mumbles something about the queen and we walk out, hysterically laughing.

"I know what Victoria's secret is!" Kayla declares loudly. "She has fancy undies and keeps them secret in her pants!" A couple guys who just happen to be passing by give her strange looks and we burst into an all out laugh-attack, which I believe one of us will die from someday. Yep, we're just a couple of mixed nuts; and what's a party without them?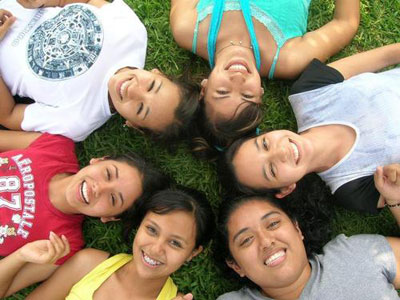 © Ana F., Guadalupe, Mexico