Tough Break
April 7, 2009
I could feel the tears well up in my eyes as he walked away from me. I watched him go and clung to my best friend, Anna.

"Victoria, it's alright." She said stroking my hair. I could feel people's eyes on me as I cried on her shoulder.

I couldn't bring myself to regret this decision though it was so difficult to let him go. He had been my boyfriend of two months. I knew I loved him, just not quite in the same way he loved me. I debated this decision for so long, procrastinating and deciding against it completely at times.

I had never felt the same way about him as he felt about me. I didn't know why. He had given me so much. He told me I was beautiful, showed me off in sweats, called exactly when he said he would, and respected my space. He was so sweet and considerate, almost so close to perfect it hurt.

And yet there were times when I wanted to be far away. I couldn't explain it. It was a feeling I had deep inside. He was a bit unattractive in a way. My friends hated him and made fun of us.

He was however the first guy who loved me, kissed me, and took me out on dates. He was the first one I really felt something for, but it wasn't enough, never enough. So I cried. I cried as I went to my next period at school. I didn't care what people were saying, what they thought. I however had chosen this.

It still hurt, seeing him everyday, as he made his way to lunch, no longer waiting for me, laughing with his friends, not with me. It hurt but I just had to deal.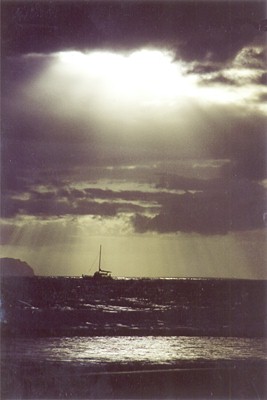 © lily H., Kekaha, HI