Damn, Shifters ep 2
September 3, 2009
Two weeks ago.
"Shifter"
The word rolled off my toungue as I read the title of the novel I picked up in the library. I screatched my torquoise hair then flipped it back. An old lady with too-thick glasses, stared at me then began shaking her head as she gawked at my hair. Well, forget you too, gosh. I wore my hair like this because it was a statement that I dont care what you think of me. I ignored the other gawking eyes and began to skim through the book, until I found myself mesmorized by a picture in the middle of the novel. His eyes were pale-blue that seemed to be entreating me as he crouched underneath the other beasts surrounding him. He was a beautiful snow tiger surrounded by orange tigers. He just laid there beneath with eyes of sadness. My stomach tightend. I frantically read the sub-text just below the picture outloud. It said:

"Shifters are those who can transform into a certain animal. They are usaully bunched in with clans who can turn into the same creature as they can. here we have the Bourgeois clan. They turn into different types of tigers. Specifically the snow tiger is worshipped in their clan. It was decided long ago that they would be the leaders of the clan. "

I gave a low whistle as I closed the book. Amazing. "Vampires are better." I said outloud mainly to myself. I walked to the other shelf. "Those geek monsters dont campare". The voice striked me with one solid-blow. I turned around then looked on the floor. There he sat with jet black hair with a white shirt with black jeans. His eyes almost seemed to match his sclera. They were such a pale blue, I couldnt even make out the out-line of his iris. He searched me up and down, licking his lips, then gave me a smile, more like a smirk. Jerk. I smiled back with more intensity. "Shifters couldnt last a minute against those, I quote, 'geek monsters', thank you very much." I turned on my heel and walked to another aisle. I watched him from a distance. I watched his gold skin glow a silky shimmer that had me wondering what he tasted like. Oh, ew. Im a perve.
I cirlced back aroundthis time dropping to my knees as i came to the other side of the shelf he was sitting at. I watched him sigh then turn the page on his novel he was reading. He then closed the book and threw it in the air. The book slid smoothley back in the proper space without a sound. I felt my jaw drop as he reached behind and grabbed another book. I felt a deep strain on my heart as if someone was trying to tear it out.
I think he stole it.
"Do you like what you see?" a familiar voice began to ring in my ears as he slowly tuned his face half way and pointed those beautiful eyes directly into mine. I shuddered. He was beautiful.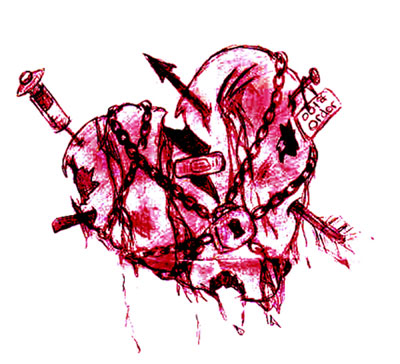 © Asia B., Hudson, MA