What I deserve
October 17, 2009
To be completely honest, I've treated her like crap, and part of me just really hopes she'll take me back. Not like we were ever together, we just get so close to having a relationship, and I just ruin it. I was scared. Scared to fall for her. Well, I've fallen. I really like June, and all I ask is that she takes me back so we can try a relationship this time.

She is sitting on the bench outside of the school, most likely waiting for a ride. I'm nervous, unsure of what to say. I sit down next to her, approximately six inches away, but she doesn't notice me. Her dark brown hair is covering her face, and I see no reaction. She doesn't speak.

"June," I say slowly, "I'm sorry. I really like you..."

She looks at me, her eyes digging into my soul, and she laughs sarcastically, "Well, that's a new line."

She gets up and walks away. I grab her wrist, stopping her. She whirls around; stopping at what seems like centimeters away from my face.

"What?" She says, annoyed. Her eyes narrow in on mind, and my heart is on fire, I've never felt so intimidated.

"I said I really like you." I repeat, "You are the only one I want to be with!"

"You know what I want? I want you to stop screwing with my head! Okay?" She yells in my face. Clearly, she doesn't believe me this time.

I'm speechless as she walks away, not looking back. My heart feels like it's been beaten and stabbed, the only feeling you can get after a horrible meeting with a ruthless viking. Yet, deep down inside, I know it's exactly what I deserved.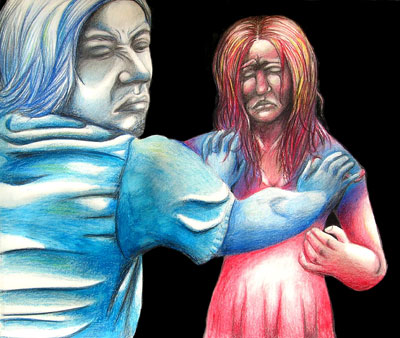 © Jessica P., Bethel Park, PA