Going
October 18, 2009
My hair fell face gracefully around my head as I looked down. It covered my face with a layer of brown. It shielded me from my problems momentarily, but it couldn't help my mind of thinking of all the possibilities. I leaned over my bicycle, with arms resting on handles, shaking. I had never felt so alone, so unwanted. He had screamed at me, his face twisted in disgust, and told me I was a horrible person. I loved him, and this is how he repaid me? I just stood there in a state shock and astonishment for a while. After he blew off some steam, he calmed down a bit, and spoke to me softly, "I told you I had a temper."
"Do I ever listen?" I replied slowly.
He looked at me through his big brown eyes, the same ones that had held so much love, with frustrations buried in his brow. He knew that he hadn't wanted this to happen. He stepped toward a frightened girl. The girl that loved him back so much, she could take what had just happened. His lips brushed across hers like a faint reminder of what was and what can't be anymore. A tear rolled down my face, "You don't have to go."
"Yes," he breathed in my ear, "I'm sorry, I overreacted. You're such a wonderful person."
He wiped away my tear for me, his skin almost melting into mine. "You don't have to say this, you're not going."
"I have to."
"No."
He kissed me once more, and closed his eyes holding both my hands in a firm grasp, and let go.
Now here I am, I had tried to chase him on my bike, but it was no use. He was gone, and that was the Good bye I was going to get from the one person who held the key to my heart.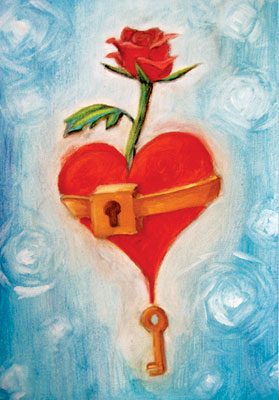 © Louisa L., Pleasanton, CA