i love you?
December 4, 2009
during the school year, i really liked you... it is time to get to know you... *stis under tree with you*
"Hi..." "Whats your name?"
*looks up from book* "my name is Lilly" (wow.. a cutie is talking to me)
why dont we go to somewhere and talk... *takes her hand softly*
L- Ummm... surr, y not.. *takes hand* wat is your name?
"My name is Arrron"...
L-well it is very nice 2 meet u
A-*holds her close* "ur warm, make me warm too?"
L-"of course"... *holds Arrron*
A-well... wat wuld u say 2 a good bye kiss??? *bell rings*
L-I guess... *kisses his lips*
A- wow, that was amazing!!! *sayz goodbye*
(little did she know, she was never going to be with him again)
----weeks went by---- she sees him with another gurl... that is his girlfriend... they r done 4ever...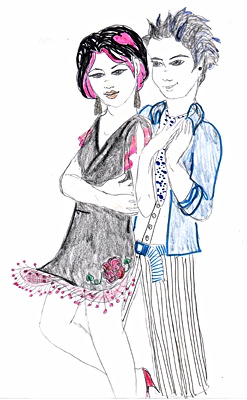 © Liaz M., Vineland, NJ