Curls
December 13, 2009
Curls don't last. Just like you.
Just look at my bedraggled, hair-sprayed, flame-roasted tresses. Hours of meticulous coiffing (complete with multiple nervous breakdowns) resulted in little but a horrifying flashback to the eighties. All for nothing.
Curls and I just aren't meant for each other. Of course, neither were you and I, were we?
This wasn't how it was supposed to happen. This was the night that could have, should have, would have been. But it didn't.
Oh, I fantasized about it, all right. Walking through the wreath of balloons, arm in arm. An explosion of camera flashes, cheesy smiles and finally braces-free teeth. A slow dance song you'd request, just for us. The brush of your lips across mine, soft as a butterfly's wings.
The perfect night—Prom night for God's sake. Couldn't you have stuck it out for the most important night of our high school careers?
But no. You had to leave me here with someone else's song playing in the background like the ending to a sad movie. Left me with nothing but memories.
Ninth grade chem class—confusing solvents and solutes and feeling the sparks fly between us. Giggling at all your jokes. Feeling like I had the flu when you smiled at me. I'd never thought I could feel that way about anyone.
Sophomore year: our first kiss. We were laughing about good old Henry VIII and his inability to knock up all six of his wives. We studied Ms. Drab's lecture notes and recited the definition of consummation. You joked, what if our marriage is unconsummated? I played along: How are you going to fix that? You said, Like this, and kissed me, so gently I thought I might cry.
And just last year: lying out underneath the stars with you, our legs intertwined and your breath on my cheek. Forever, you promised. And, gazing up at all those far-off little pinpricks of hope, it was easy to believe you.
I thought that senior year would be the conclusion to the perfect high school experience—the kind you read about in sappy books and envy even as you scoff.
But you had to leave me crying in the girl's bathroom, mascara trickling, hair de-curling—just like one of those drama queens we always laughed at.
All because you want a girl with perfect, spiral curls. A girl who's not even smart enough to delete the gooey texts you exchanged while I was at summer camp. A girl who's not me.
Maybe I'll abandon my easy-upkeep, pin-straight hairstyle. I'll just keep frying my hair with a curling iron, keep holding out for those flawless ringlets you love so much. I mean, why bother being myself?
It didn't work with you.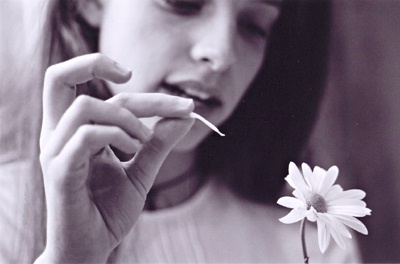 © Emily B., Houston, TX