Fallon
January 13, 2010
The sun rises in a sky that I will never be able to describe. I smile as the warmth caresses my face and warms my soul. I turn in a complete circle and notice that this large barren field I'm standing in the middle of is surrounded by enormous trees. Their leaves shine golden, which makes the whole picture seem like a treasure chest protecting the riches inside.
I am protected.
I am healed.
I am content.
I am where I am supposed to be for the first time in my life.
There is no question of a lost identity. I know myself completely. I am a dreamer with stars in my eyes and a compassionate heart. I am clumsy with my words, but my message is clear. My trust and friendship is easily given. Once the first is lost, the second no longer exists. My head rules my emotions, but my heart rules my head.
I am naïve.
I am strong.
I am selfish.
I am loyal.
I am gullible.
I am old-fashioned.
I am romantic.

My heart stops as a figure emerges from the golden-leaved trees. I panic. The overwhelming urge to flee is incredible, but I find that I cannot move. My feet know that there is nowhere to hide. In disbelief, I rub my eyes, but the figure is still there. It still moves towards me. The sun makes it impossible to see a face, but the silhouette is unmistakably different from mine; tall, broad, and masculine. Miraculously, I am drawn to him and I want to get nearer.
I can see him now. He has a strong jaw, straight nose, and lips that were made for smiling. His eyes make me feel like I'm the only person in the world. They are lined with long, curly eyelashes and the color is striking. He is striking.
I do not recognize this man, but I want to know him. I want to know what makes him laugh, what makes him sad, and what makes him vulnerable. I want to reveal my secrets to him and discover his. I want to be the reason behind his smile.
He whispers my name. This stranger knows me, but I know nothing about him. How can this be?
Words are not necessary. There is no reason for flowery lines and insincere declarations. I do not want to play the games others seem to thrive on. I just want him as my own.
He opens his arms and my eyes start to water. My head is telling me that I will get hurt. My heart is telling me my choice is an easy one: run to him. My heart wins.
The wind whips my hair away from my face and makes my eyes burn. Tears start to fall. Weakness leaves my body and my strength reaches new bounds. I run faster and faster. I jump into his arms and he twirls me around in circles. He laughs, but it fades as he lowers me onto the ground. He looks worried. He believes I'll fade away.
He asks me if I will leave with him. I will have to leave this haven for a place he calls Home. My heart sinks as my head lists all the possible risks. Then a realization occurs: I've been falling slowly ever since I realized someone had discovered my secret.
I tell him that I will go. His face transforms and he smiles a smile that speaks volumes. He is in love and I am in love. We both understand.
He grabs my hand and we start running towards the trees he had magically appeared from earlier on. As we are leaving, my head turns back towards my haven. It's just as magnificent and enchanting as before, but the sun is no longer shining directly at it. Instead, it is in the front of us. It's getting into place for the ending of the day.
A vast ocean comes into view. I vaguely remember it from the past. A long dock with a boat secured to it is visible. The boat glows golden in the sun, which reassures me of my decision. He tells me that we will use it for our voyage Home. We walk down the dock hand in hand and when we reach our boat, he helps me onboard. He unties the spring lines from the cleat and we are off.
As the boat drifts away from my past, we gaze out at the beautiful sight before us. The sun is setting in a sky that I'll never be able to describe. I whisper this to him and he laughs melodiously. He tells me that I should be able to describe it perfectly. I tell him nothing's perfect. Again, he corrects me by saying that this is. The words were waiting for the right time, place, and person. This is it.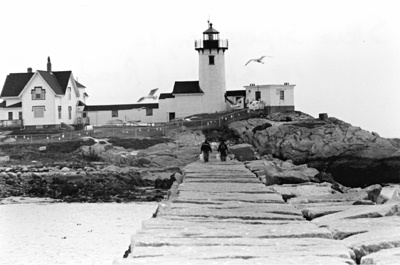 © Steve S., Marblehead, MA