Facebook Romance Part 2
February 19, 2010
"Hey." I know that voice too well. It's him again. I pause in my gathering things from my locker and avoid looking at him.
"Um, hi. What's up," I say.
"Look. I know you've been avoiding me. But I need to talk to you. Alone. Like, now. Come on. This is your free period, right?" He slams my locker shut and grabs my arm. He whisks me down the hall as I protest and try in vain to free myself. Finally, he yanks me behind the bleachers in the gym and faces me. I shift uncomfortably from foot to foot, looking for a way out. He takes a deep breath and begins talking.
"Look," he says, "I guess I was too forward with you the first time. It was a lot to take in over facebook. But I love you. I can't sleep, I can't eat, every thought of mine has something to do with you. I can't live without you. What I mean is...would you go out with me, if I asked?"
I stand there, stunned by this weird speech, and I don't know what to do.
"Um...well..."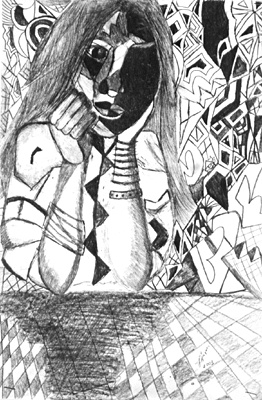 © Joy H., Kannapolis, NC