At Last
March 24, 2010
She walked backwards on the lush green grass, humming quietly under her breath. He followed after; the tips of his blue shoes tapped the front of her white sneakers. He smiled lightly, mischief highlighting his pale blue eyes; she rolled her eyes, but couldn't bite back the smile. She raised her hands to push his chest, but he caught her hands easily. He pulled her closer, and she happily obliged. His eyes softened as she came closer.
"You annoy me." She pouted, inches away from his face.
"And I love you." He closed those inches swiftly, covering her mouth with his.
She smiled under his warm lips, smirking at her good fortune. Fate had played many tricks on her; but only one made her smile hopelessly, and fall madly and deliriously in love. And that one was kissing her like he was drinking in the sun. His tongue danced around her mouth, teasing her senses horribly. He smirked as well as his hand left hers and gently cupped her cheek. Her heart thumped fast and hard as he ran his thumb back and forth under her closed eye. She hummed shortly, entirely pleased with life. At that moment, she didn't care that storm clouds were chasing the blue sky away, or that soon she'd have to return to dysfunctional family, or even that her bra strap bit furiously into her shoulder. She was in the arms of her escape, her simple relief. And she never wanted to let go.
So with the taste of his previously drunken soda on her lips, he broke the kiss. He looked at her with such intensity, intensity that screamed love.

"I love you too." She was turning pink slowly, but still spoke the undeniable, the truth drowning in clarity.
Like a puzzle piece, she fit her head in between his shoulder and his neck, inhaling his familiar scent, smiling for the thousandth time that day. She was pleasantly, and mercilessly happy. At last.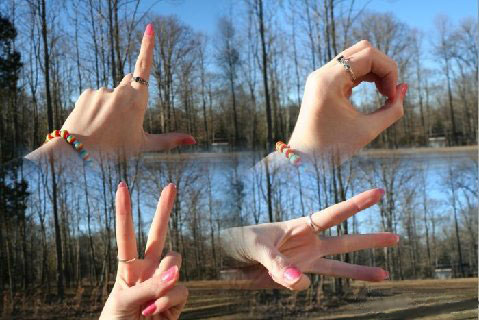 © Kayla D., Croydon, IN