Second Chances
March 27, 2010
Chapter 1
"Come on Clara, it's your turn" Madison my sister says. "My turn for what?" I ask confused. "7 minutes in heaven, duh. You didn't think you were going to sit here the whole party did you. "She gives me a weird look, pulling me through the crowd. Well I was planning on hiding out till the party was over but that's obviously not going to happen. I sigh, trying not to get frustrated with my sister. Ever since my recent breakup with Eric, she thinks I'm down too much. So she decided that I needed a night of "fun". No offense but this isn't my idea of fun, but I don't want to say anything because I know she means well.
"Whatever, let's just get this over with" I look at her making sure she knows I'm not ok with this. But she doesn't even seem to notice. "Okay, just grab one of the items and hold it up so whoever item it is can go with you." As I look down I see a variety of things on the table. A phone, a few flags, a whole bunch of things I couldn't make out. Then I noticed the guitar pick, I pick it up and look at it. Maybe I'll just ask him a bunch of questions till the time is up so I won't have to do anything with him. I keep a firm grip on the pick and hold it up high. God, I hope he's not some perv, or someone ugly. It's not like I'm going to do anything with the guy regardless If he ugly or not, but my sister won't know that. And if my sister gets even a little suspicious about what actually happened well chances are I'm probably going to be at another party soon. But as I look up at the guy coming towards me, he is definitely not ugly. In fact he is the most beautiful guy I've ever seen. He has hair at the length of his chin, brown and shiny; I just want to run my hands through it. He is wearing a white tee and a leather jacket and, oh god I'm pretty sure I'm staring at him..with my mouth open. I look away, feeling my face flush as he smiles at me. and he's got perfect teeth. Forget what I said before, there's no way I'm not kissing this guy. But as I'm walking with him to the room, I feel a sudden panic rip through me. What if he thinks I'm a bad kisser? He's probably kissed a million girls. Scratch that, he's probably had sex with a lot of girls. I mean hello, look at him. There's no way he's a virgin, me on the other hand...am very much one. As he closes the door behind me, I look around the room, which only has a bed and some dressers. Well, I can't sit on the dressers, so I guess it's the bed. I sit nervously on the bed trying to pull my skirt down a little without making it obvious.
"Hey my name is Jackson" he smiles and sits down next to me on the bed. "Uh, hi, I mean hey my name is Clara" I smile back shyly at him. "That's a beautiful name" he says moving slightly closer to me. "Thanks, I was named after my grandma, she actually told me that her name…uh never mind." I did that gibberish thing again. Every time I'm nervous I talk about the weirdest things. I look up at him hoping I haven't freaked him out yet. As I meet his gaze I notice that his eyes are a light brown and if you look close enough there a sparkle of blue. His hand touches my face, softly and he leans in closer. This is it; I'm going to kiss the sex god. His face is mere inches away from mine, and I close my eyes, feeling my hand almost on its own will wrap around his neck, and suddenly I feel his lips softly against mine. I gasp in surprise. I've never felt such soft lips before. His hands move to my waist and he pulls me closer to him till I'm practically on top of him. As our kisses get heavier, he pulls me down on the bed. He breaks the kiss and starts kissing my neck. Gosh I love when boys kiss my neck, and he kisses so well. He lips meet mine and any doubts I had, disappeared. We kiss until we here a knock on the door. As we break apart, I open my eyes and look at him. He stares at me for a moment like he wants to say something, but instead grabs my head.
"Come on, let's go" he says. Okay, I've never hooked up with some random guy before, and boy was I missing out. Madison was right, I feel a lot better. Not enough to start dating tomorrow, but enough to see what a jerk Eric really was. Though for Jackson I might make an exception...No! This was probably some random hookup for him. It probably means nothing to him. Plus why would he want me when he can have way prettier girls who would sleep with him in a second. I sigh as I look for my sister, so we can leave. "What's wrong" he says looking concerned. "Nothing, I've got to go" I start to move away from him but he pulls me back. "Can't you stay longer" he asks. God why is he asking questions, I thought he'd be glad to get away. "Nope. Sorry, I'll see you around" I say. "Wait, can I get your number?" he puts his hand on my arm and I can't help but stare at it. "Um, why do u want my number" I ask confused. "To call you of course" smiles at me and I can't help but smile back. "Uh, sure". We swap numbers and before we leave he gives me a kiss on the cheek. "I'll see you later." Then he turns and walks through the crowd. I stand there, stunned by what just happened. Could he actually like me?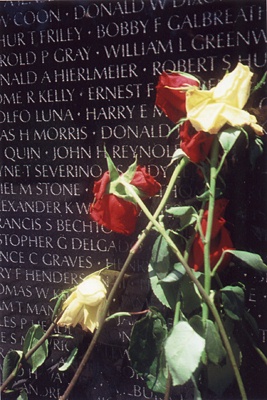 © Justin R., Angola, IN