One Year Anniversary 2
April 7, 2010
That next morning Matthew woke up, before Grace today, out of the ordinary. He looked at her he loved how she slept so peacefully. She was clearly a gift from God. He got out of bed slowly making sure he didn't wake her. While walking out of their bedroom he closed the door behind him, so she couldn't hear him making breakfast. He carefully tiptoed out of their room and headed towards the kitchen.

Their kitchen was a cute one, the theme was a common one, roosters. They had rooster cushions on their chairs, rooster hand towels, rooster salt & pepper shakers and every other thing you could imagine. They loved it, obviously it was Matthew's idea. But Grace got used to it after awhile.

He started thinking what to make his angel. He started looking through the pantry and fridge. Hmm...? Finally, he settled on eggs, toast and sausage. He walked to their room to check on Grace, making sure she was still asleep. He carefully opened their door, just a crack, yes! She was still sleeping.

He got out the sausage, that would take the longest to cook. He added some onions in there to add extra flavor. The aroma was filling the house, Grace even woke up from it. She woke up smiling, and laid there wishing he was there so she could kiss him right then. But she knew what he was doing, he made breakfast for her whenever he woke up first. She missed him dearly. She got up and walked to the kitchen.

He was already starting on the scrambled eggs, he had the microwave fan on because the sausage was getting pretty smokey. She came from behind him, he couldn't hear her coming, and she wrapped her arms around his waist. "Hey there. What are you doing up already sweetie?" He turned around to face her and he kissed her lips, just a sweet touch. "I smelled the sausage and the onions honey," she gave him a smile. "Sweetheart can you go back to bed, I wanted to bring you breakfast in bed." "Oh alright Matthew." He hugged her and said, "Thank you Grace, I love you."

She hopped into bed, thinking what to do for the next ten minutes. She didn't want to watch television. *I know what I can do,* she thought. Opening her nightstand draw she saw all the letters Matthew had wrote her before they got married. She grabbed one and everytime he gave her one she wrote the date on it that he gave it to her. 2-14-01, their first Valentines together. He was just 15 and she was 14. It was a poem, named, Your Kisses. She started reading it and spoke aloud as she read it, "Your kisses are a sweet touch to my lips. I love your kisses so much and they mean so much to me. I wish I could get a kiss from your gorgeous self everyday. Your the best kisser I know and the only one and the only girl I'll ever kiss and get kissed by. From, Matthew. I'm so in love with you Grace." She smiled the whole way while she read through it. He had also drew a rose in the corner of the paper. It wasn't colored, but it was drawn nicely, in pencil. She could easily tell he worked hard on it.

"Knock, knock," Matthew said, waiting for her reply. "Oh come in sweetie." He pushed the door open with his arm and came in with a tray on food and orange juice. "Are you hungry my love?" Matthew asked. "Yes I am, come over here and feed me!" Grace started laughing and he did too. "Ok my love if you want me to." They were teasing the way they always had. She looked at her delicious breakfast. "Mmm Matt, scrambled eggs, sausage and toast..." He could hear the excitement and happiness in her voice"..You made the toast extra special today, in a heart," she smiled at him. "Yes I did Grace, just for you. Do you like it?" "Do I like it? I love it!"

As she was eatting, she asked, "Aren't you going to eat?"
"I had cereal awhile ago with toast," he said.
"Oh ok. Thank you for the breakfast honey. Give me a kiss," she said.
"Your welcome Grace." He kissed her on the lips. "You deserved it Grace, you've been such a great wife. The kind of wife I always wanted."
She finished her breakfast and laid it on the floor. And she squirmed closer to him on the bed. He laid down and she did too. He pulled her right next to her, so she could be right infront of his face. "What kind of wife have you always wanted?" she asked in her softer tone.

His forehead was against hers and she closed her eyes and said, "Matthew kiss me. A real kiss." He pushed her hair behind her ear and kissed her, a hot, passionate kiss. A kiss that lasted along time. He then stopped kissing her and in a whispher he said, "Grace, the kind of wife I've always wanted was a sweet girl, a girl that wouldn't be afraid to tease me, a girl that wanted it real romantic when were married. A girl that doesn't need to wear makeup to look beautiful, and you never even wear any, that shows real natural beauty. And one that wouldn't get mad that easily. And Grace you have those things. Things that I love."
"Aww thats sweet Matt. Can we go take a walk on our trail," she politely asked.
"Sweetheart we can do whatever you want."
"Ok my love, lets go."

As they were walking on the trail, hand in hand, he picked a flower. Not any special flower, just a Dandelion. They stopped walking and he said, "Grace, my love for you is like a flower."
"How? I don't get it"
"Because once you think a flower is done growing, it surprises you and keeps growing. Same with my love for you. Once I think I've loved you with all my heart already I surprise myself because I just keep loving you more and more. And it seems like every time were together I start loving you more."
"Matt thats soo sweet." She hugged him tight and as she was she said, "Matt I don't ever want to lose you."
He whisphered in her ear, "Grace, don't worry about that. You'll always have me. Never ever will you be without me." He kissed her lightly on her forehead.

"Matt I don't feel so good. I feel dizzy."
He noticed her words weren't so clear.
"Grace, sweetie lets go walk to our bench. It shouldn't be too far from here."
He could tell she was using alot of strength just to talk.
"Matt I can't walk. Please get me to the Emergeny Room."

Tears started running down his face and he picked her up and carried her to the car as fast as he could, still keeping it a steady pace so he wouldn't drop her. He set her down gently in the passanger seat and ran in the house for the car keys.

They got there and he carried her in there and talked to the secretary and told her his wife doesn't feel so good. "When did she start feeling like this?"
Matt was panicing and he was getting very overwhelmed, he had a sharp loud tone "About half an hour ago. She can't even walk, and shes very dizzy. She can barely talk. Help her please."
"Ok sir, calm down, set her down in that wheelchair." she pointed to one close by. "And take her down to room 217."
He set her down in the chair and he took her to 217. A doctor greeted him, "Hi, I'm Dr. Hampton. What's wrong with her? And when did this occur?"
"She feels dizzy, her legs are so stiff she can't walk, and she can barely talk. This happened about half an hour ago."
"Ok thank you, I need you to step out of the room so we can run some tests on her."
He walked to his precious Grace and held her hand and said, "Grace, don't leave me honey. I love you." He kissed her cheek and did what the doctor asked him to.

While waiting Matt did nothing but think of Grace. He was thinking the worse and decided to pray to God. "Lord, please keep Grace okay. Heal from whatever is hurting her. Please don't let anything major happen to her. Keep her cradled in your arms until she is fully healed. In Jesus name Amen." He couldn't think of the negatives he had to stay positive for himself, and for Grace.
He took a nap and felt a hand touch his shoulder. He woke up startled, but saw Dr. Hampton there.
"Mr. Wheeler, we have the test results now...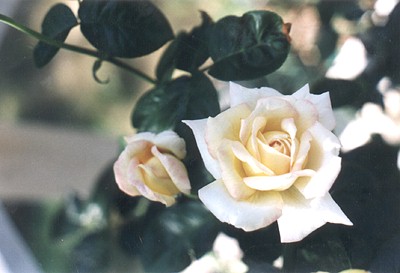 © Jacqueline S., Hanover, MA