My Stranger
April 15, 2010
Twinkling lights were above my head. I was lying in the grass of the park three blocks from my house. I couldn't move, I couldn't breathe. I was completely numb.
He left me. He broke up with me to be-be with someone else. I wasn't enough? I wasn't enough. We were forever. We were forever? No it was a lie. Too good to be true. I knew it. I always did. I saw this coming, but he still broke me, and left me here shattered.
I got up and left. I walked towards my home, the haven. No, the hell. I stumbled towards my dying place. I tripped and fell into someone's arms.
"I'm sorry." I whispered. I looked up I saw his blazing blue eyes with a hint of purple on the edges. They shook my soul. Not just the color, the message. I held his gaze for some time until I realized I was still in his arms. I let go and shook myself. My face was burning. "I'm sorry." I repeated.
"You already said that." He smiled as he pointed that out. "You're pale. Here," He took off his leather jacket and put it on my shoulders. I remained still. "Where are you going? I'll take you there." He never took his eyes off me.
I smiled despite myself, "Anywhere, I've got no place to go." I suddenly didn't want to go home.
He smiled too. "Let's walk." He led me the opposite direction of my home. It never occurred to me that he would be a rapist or murderer. We walked in silence for a couple blocks. But he broke that silence.
He turned to me and asked, "Why were you in the park?" I stopped walking.
"I was there because I was just dumped." I just blurted it out, releasing it all. I turned to him looking at his expression. He contemplated this.
"Hmmm… Well shoot that boy must have the IQ of a rock." He grinned at me, and I laughed. It felt good to do this.
"Yeah, well…" I left it at that, but I radiated happiness. I could see that he could tell I was happy. He leaned towards me and kissed me. His lips were soft and gentle against mine. They were moist and warm to touch. His heat radiated against my skin. His hands moved from my cheeks down to my waist, and he hugged me tightly. I pressed towards him with all my might, wrapping my arms around my neck, pulling him closer. Every time I tightened my arms he did also. I relished the feeling of his body touching mine. We stayed this was for what felt like hours, but I didn't mind.
He gently pulled away, touching his forehead against mine. I looked in his eyes and he whispered "I desperately need you." Then we kissed once more.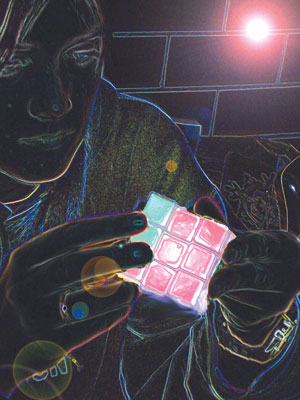 © Tinh V., Monte Vista, CO