Red as Coals, Black as Night excerpt
June 1, 2010
She shivered in the relentless cold, arms hugging her slender, willowy form as she stared with her gem-like eyes into the dancing flames. Her graceful hands were held over the fire in a fruitless attempt to stave off the freezing night.

He, Jose, had no problem with the cold. Or at least, not much of one. His immense body produced enough heat to keep him relatively comfortable. Esa, on the other hand, was miserable. An idea to alleviate her discomfort occurred to him, but he was worried about how it would be received. He had almost decided not to mention it when her frame was suddenly racked by violent tremors. It looked as if her seemingly-fragile body was about to fall apart. That decided him.

"Esa," he called to her, loud enough for her to hear, but not loud enough for any predators nearby to take notice of. When she looked up, questioningly, he patted the bare earth next to him as he sat and propped himself against a large spruce tree. She just blinked and looked confused. Either she didn't understand his plan or didn't want to. But when he repeated the motion, she came willingly enough. She sank onto the cold dirt elegantly, as if it were a throne and not filth and, copying his posture, reclined against the thick tree. However, she was still freezing. Her lovely lips were a dark blue, and her face and hands were turning a similar shade. So he opened his large, burly arms and easily enclosed her shoulders, pulling her closer to him. He did not do this because of any crude desires, but for a more practical reason. Jose hoped this would help her get warm.

At first she was stiff and tight in his arms, aloof and unyielding, but as his body heat passed to her and thawed out her iced-over bones, Esa gave an involuntary sigh of relief. Her rigid muscles relaxed and she leaned into his embrace, her head on his chest. Her tumbling, raven hair shifted in the breeze, and he caught Esa's unique fragrance of dew, flowers, pine needles, and rich earth.

As Jose stared at her in awe, he couldn't help but think how, despite all her talents, Esa would never be good at camouflage. In the dim night, the moon only a silver wisp in the sky, her skin shone like polished silver wire, lighting the small clearing. He, in contrast, completely melded with the shadows, save for his flaming eyes. But she did not recoil from his black touch, merely staying in his hold, not a whit afraid. Or at least not showing it.

Jose's feelings were in turmoil. They were too strong and he was too confused to try to make sense of them. So he simply waited for them to cool and reorder themselves.

How long they stayed in that pose Jose never knew. It was Esa who finally broke the silence. She said quietly, "The night is late, and we must pack our things and go to bed. It will be an early start tomorrow." Jose lifted his arms and patiently waited for her to get up, but she didn't. "I think I'm too stiff to get up," she admitted. Jose could almost feel her wry smile.

He tenderly grasped her upper arms and, careful not to squeeze to hard with his ham-fingers, lifted her to a stand. She wobbled for a second, then regained her usual poise. "Better?"

"Better," she agreed.

Then she smiled at him. In the wan light, she was so glorious that, if he had been a human man, he would have been to stunned to speak. Shanese were made of sterner stuff, though, and he was capable of replying gruffly, "Well, we'd better start."

Esa started to gather the supplies that had been left out into a pile to be put away in the packs, but he stopped her. "You work on the defense," he said. "I'll do the rest."

So while he put together and stowed away their supplies, and put out the smoldering fire, she sat down and concentrated. And the short tough grasses and shuffling ferns suddenly grew to extraordinary heights, forming the walls of a dome. Then the trees themselves swayed and shifted, until their formerly isolated branches were intertwined above Jose and Esa's heads to form a thick, scratchy barrier. Esa herself sighed and rocked back on her heels, tired. Jose made sure to set her bedroll up before his, and she cast him a grateful look.

They both climbed into their ridiculously long bedrolls and closed their eyes, waiting for sleep. As they lay down, Jose looked over at her prone form and said gently, "Good night, Esa."

The silence was so long that Jose thought she had succumbed when she suddenly whispered, in that unearthly voice that never failed to amaze him, "Good night, Jose." A wonderful sense of peace enveloped him then, and he fell into an undisturbed, dreamless rest.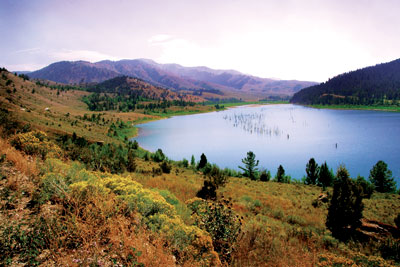 © Matt S., Glastonbury, CT