Their Dream
July 1, 2010
She was in her classroom. Not one she'd ever seen before, but one she instinctively felt she belonged in. Her classmates stood and chattered amongst themselves. The faces were all familiar, but none of them recognizable.

Somehow, as she converses with these acquaintances she'd never met, a game began of measuring how closely people's hands could fit together. The goal was to find a perfect match.

She didn't join in immediately- she'd never been a very social girl. Instead, she simply observed people clasp hands, remark on the fit, and move on.

"No, your hand is WAY bigger than mine!"

"Nice nail polish- where'd you get them done?"

"Ouch, that looks painful... was it from your cat?"

"Dang, your hands are skinny."

Then, out of the blue, comes a voice she knows. A voice she's listened to so many times, always wishing it were directed at her.

"Hey, I haven't tried you yet," he says. It's him. As he grabs her hand, she looks into his eyes- and notices he's looking right back at her.

A moment turns into eternity as she tries to sort out her emotions. There's a heat rising in her cheeks, but she doesn't want to let go of his hand. Rather, she doesn't want him to let go of her. Heat rises in her cheeks, so she looks down, seeing their hands together.

A million thoughts run through her head as he pulls her a little closer to his side. Part of her gets the feeling he wants her to turn to him, to say something- but what if she's wrong? So afraid.. she is so afraid of being wrong. There's a voice in her head screaming at her to pull away from him and run before she can humiliate herself further. This isn't a hand game anymore... it's a game of emotions.

Upset at her own inability to figure it all out, she listens to the voice.

Instantly, she regrets her decision. His face as she draws her hand away and runs for the door, clearly expresses his confusion and sadness. She imagines her own expression mirrors that of a frightened rabbit.

As the door swings shut behind her, she half wonders if she should return, heal the pain she's caused. But it's too late.

She's still so terrified. How to navigate this swirl of sensations? Her heart pounds, filling her ears with the rhythm.

If only she'd understood him before she made her decision. If only she had the ability to turn back the clock. If only she had no fear. If only she could have forced something intelligent from her mouth.

If only...

~~~~~

For some reason, his classmates have designed some sort of game where they try to find someone's hand that fits perfectly in their own. Who knows why- he supposed it was just one of those things that people do when they're bored.

"C'mon, it's fun!" A friend he's obviously known forever but has never spoken to calls out to him

"Alright," he responds. Why not? Might as well try it. He begins clasping the hands of various other kids, laughing and talking with them.

After a minute, maybe two, he notices her. She's got that odd little smile on her face, like she knows something you don't. It's faint today, but it's there- it always is.

Only this time it's the other way around. He knows something she doesn't, something she hasn't figured out yet. At least, he doesn't think she knows he's noticed her. But, oh, he does. day after day. She never looks at him, though. When he tries to talk to her, she looks around before responding, like she wonders why he would ever speak to her. He shakes his head, clearing it.

He decides to take a chance.

"Hey, I haven't tried you yet!" he exclaims, and before she can open her mouth to say anything, grabs her hand. Glancing into her eyes, he realizes he doesn't know what to expect. Imagine his surprise when she's looking up at him, too.

Suddenly, there's no one else in the room, just him and this girl. He pulls on her hand a little, almost subconsciously, wanting to bring her closer, to hold her but uncertain. What is she's offended? Or worse, sickened?

Something unidentifiable crosses her face, and she escapes his grasp, runs from the room.

No! He wants to cry out. Wait, stop!

But he can't. His throat has closed; he's hardly able to breathe. The door swings shut, and she disappears from view.

Has he lost his only chance?

~~~~~

At the same moment, miles away but inexplicably connected, they awaken, each wondering why they were dreaming about the other. Wondering what their subconscious had been trying to tell them

Wondering if the other ever dreamt of them.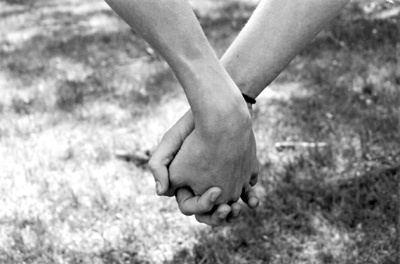 © Alexa T., Pompton Plains, NJ