Baby Blue Eyes
July 7, 2010
It was that summer. The summer that everyone dreams of. That one summer when you are sixteen, going to live with your dad for the summer away from your home. Not knowing anybody, but meeting some really incredible people along the way. The summer of mistakes and broken promises. But also the summer only summer of pure happiness. Meeting that one person who changed your life forever. Even when you grow up, you still remember that one summer AND that one person.

"You have a second?" Eli asked me. We were outside of his house, where he lived with his little sister and uncle. The first time I had been here was almost two weeks ago. That didn't go so well, his sister hates me. She says that I'm too nice, I have to be fake. When I came home that night, my dad said that I did sometimes seem too happy. I do fake it sometimes, but when I'm with Eli, I don't have to.

"Yea, why?" I asked. I was wearing the dress I knew he loved.

"Okay," he said getting up from the bench-swing we were sitting on facing the lake in the back of his house. "Wait here."
He had a mysterious grin on his face, which made me nervous. "What-"

"Just wait here," He said. He kissed my lips and I instantly forgot what I was about to say. "I'll be right back."

"Okay," I said. My head was still spinning from the kiss. I couldn't believe how lucky I was to meet someone like Eli Johnson. I'd only known him for a few months, but I'd never felt that way about anyone. And still never have. At the time, I had thought that he was the one. The only one out there for me.

A minute later Eli came back sitting down on the bench next to me again. I had realized where he had gone: to his bedroom to get his guitar.

"So," he said with an excited smile. "I wrote this for someone special..." I could automatically tell that it was written for me. And it wasn't just the wink he gave me.

This took me by surprise. I had known he was a musician, but I hadn't even thought about him writing a song about me. I mean, it's ME we are talking about! What could he write about? I wasn't that interesting. The song was about my eyes, sort of. The title: Baby Blue Eyes. My eyes are a vibrant shade of blue. He always said that my eyes were beautiful. But then again, he always said I looked beautiful, even when I knew I clearly did not.

When the song was over, I was breathless. I didn't know what to say. I started crying halfway through it because it was just so nice. The crying was half-happy-cry and half-sad-cry. Happy because it was the most amazing thing I've ever heard, and sad because I knew that in a few weeks I would be going back to South Dakota. 6,342 miles away from Eli. He would be going back to finish his last year of high school, me still having two more years. We would have to break up, just like any other summer relationship does. I knew that we might not see each other ever again after this summer. With these thoughts in my head I wanted to start bawling. But I didn't, I held myself together.

"Eli..." I didn't know what to say. I was smiling just as big as he was. His eyes were sparkling with pride. He knew he had done a good job on the song.

"Do you like it?" he asked, as if I would say no.

"Are you kidding me?" I asked rhetorically and kissed him. I tried to bend over his guitar, but it didn't work. So we were kissing, with a guitar digging into my stomach, his dog barking at us, and his little sister about to come off of the porch and yell at us. But at that moment, that one moment there sitting on that swing with Eli, it was all perfect.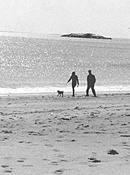 © Megan S., Marblehead, MA