I Understand.
August 9, 2010
The sun shone brightly through the balcony windows in our bedroom as I stepped out of the steamy bathroom wrapped in a towel. I dropped the towel to the floor and slipped on the polka dot bathing suit I had set out earlier. I felt naked wearing only the bathing suit, so I dug through Taylor's drawers until I found one of his button-up shirts. I slid the light yellow fabric over my arms and rolled up the sleeves, leaving the shirt un-buttoned.
I grabbed the book I had been reading from the dresser, and proceeded toward the balcony, taking a seat on the wicker couch.

Just as I finished the chapter I was on, I heard the front door close. It was strange for Taylor to be home so early in the afternoon.
I heard him stalking through our bedroom and then opening the balcony door. "Hey," he whispered.
I turned towared him, and he smiled at me. I melted. "Hi."
Taylor sat down next to me and pressed his lips against my cheek, then buried his face in the crook of my neck and sighed. Something was wrong.
"What's going on?" I asked him.
He sighed again, this time more deeply. "I have to leave." he answered in a monotone voice. "My sister called. My mom's sick, Alex. I haven't seen her since I was nine years old, and I'd never forgive myself if I didn't spend every moment she has left by her side."
I nodded. "I understand," was all that I could say.
He kissed my cheek one more time and lifted himself off the couch. I heard him pull the duffel bag out of the closet, pull clothes out of the open dresser drawer and shove them in, then zip the bag shut. I heard the front door close again, and then, very faintly, his car door.
My chest felt heavy, and my eyes welled up with tears. The sky went dark. It rained harder than I'd ever seen it rain. I didn't move from the couch.
When the rain was over, I forced myself to get up, and I peeled off the yellow shirt. I found a blue one just like it in the closet and slipped it on. It smelled like Taylor.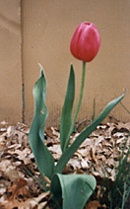 © Ashlee R., Plano, TX