Trivial Playthings and Words of Wisdom
August 31, 2010
"Today's a good day," he said simply, walking with her onto the playground with a spare apple in his hand. His eyes flicked up to the sun, and instinctively twitched away from its lovely glare. The breeze swirled around them, nice and warm, just the right temperature. He closed his eyes and breathed in the scent of freshly mowed grass as the wind brought spare blades dancing swiftly about his feet. He sipped at a fruit juice box and it tasted like early summer.

She followed along silently in his wake. She used him as a shield from the piercing sun and gusts of wind. Grass blew between her toes and made them itchy, causing her to shake her leg and fall over in the sand. Her yellow sundress fluttered as she fell on her butt in the cushiony dirt. A hand was offered, and she took it, hoisting herself up to meet a pair of shining blue eyes. "Are you alright?" he asked sweetly, his blond hair tousled with the effort of helping up the only girl in the whole third grade taller than him.

"Oh, uh… yeah," she said, taking a quick evaluation of herself. She checked to see that the backs of her legs weren't scraped and brushed off the back of her dress. A poof of dust rose with each gentle smack of fabric until it was cleaned.

A silence fell between them, a shimmery veil begging Chris to open it. He did so with a magnificent flourish, wanting the treasure such a veil must envelope. "I can just tell that today will inspire something great," he said softly to the breeze.

April turned her full attention on him in that moment. Her whole body twisted with the sudden change in atmosphere, the gravel grinding the pavement underneath the pressure of her flip-flop. The crunch startled him a bit, and his newly widened eyes captured hers, vastly beautiful with blatant surprise. "What a statement," she commented casually, her speech an echo of the many novels they'd both read that were supposed to far surpass their capabilities at "such a vulnerable age." "Why do you think that?"

"I don't really know. I'm just sure of it."
"But how can you be sure?" she asked, her eyebrows drawing up in contemplation.

"I just know, you know? It must be faith or whatever they call it."

"Well, I don't know about that. Not one special thing has happened to me today." She crossed her arms in front of her and sighed.

They paused for a moment in an awkward silence. "Nothing important has to happen for it to be a great day," Chris said in explanation. "It just started from the second I woke up. My body just decided today was especially good." He loved being around April, but sometimes she didn't understand his optimism.

`April's foot sunk suddenly, and she looked down to realize they were in the sand by the slide. Chris began to walk up the stairs to the top. She followed him underneath the tent sheltering the slides and a shadow fell over her body. Coolness swept over her skin and it tingled with the relief from the sun. This was her kind of place; darker and smaller and more comfortable. She liked Chris for leading her there; she knew that he knew she liked it better. It was quite a sacrifice for him too, especially since today was football day and everyone else was playing two-hand touch in the field.

Ms. Carmen glanced over toward them and she could not contain the smile that lit her face. She gazed lovingly upon them. Though she was not supposed to favor anyone, these two were definitely her favorites. They were destined for such great things, she could just see it. Opportunities were laid out in front of both of them, the world was theirs, and they didn't even realize it. Their innocence astounded her, and she thought back to a time when she was that free and naïve. She couldn't remember one. What they had was so magical and precious, to do whatever they wanted, to choose any path, or maybe choose to be different and veer off into the woods instead. She sighed contently. It was for people like these that she became a teacher.

April ascended the steps to stand next to Chris. Away from the dizzying heat, she was much better company, less moody. Chris swung into the tunnel and he was engulfed, waving sweetly as he went. She followed, sitting down and scooting to the point where she gave way to gravity. The slide entrance was a suction, and it whipped her hair away from her neck, sending chills down her spine. Static tickled the hair on her arms and head and she smelled plastic.

Chris squeaked to a halt suddenly ahead of her. She did likewise with her arms and feet, her flip flops falling to the bottom of the slide in the effort. Her body squealed to a stop right by Chris. He provided a source of warmth in the otherwise desolate slide. They clasped hands sweetly and lay together, staring at the dim light filtering through the green plastic, the soft reflections dancing on their faces as they turned their heads slightly.

April had read many fairy tales in her life thus far. In none of them did a nerd girl become a princess; in none did a person who already had a great life need a happy ending. But here was Chris, a beacon of optimism shining on her in this little tunnel, this little place where she was comfortable. By no means did this mean he would be her prince forever, but she stored the memory away and kept it as a source for future inspiration when she figured out whatever it was she would do with her life. All she was certain of now was that she could set her own precedent for happy endings, if need be.

Chris was simply content.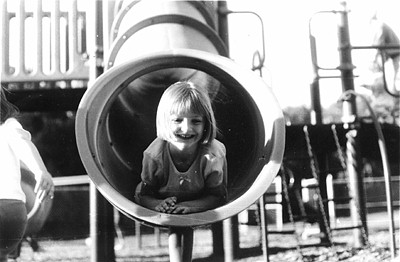 © Jessica M., Marblehead, MA