Two Blocks Over
August 25, 2010
She walked across the quiet street. If only he knew…
****
Lord, she was everything he ever wanted. Why couldn't she see him clearly then? She would never know the truth. Love just pulls you in when you try to leave.
****
He doesn't know she exists. She talks and he doesn't listen. He was blind to her and always would be. Unless she told. But doing so would take more courage than she had. Her fears would resurface and consume her. She just couldn't take the chance.
****
She unknowingly passed by his house. I'm right here, he screamed inside his head. He couldn't bring himself to tell her the truth. It was him staring at her graceful walk, her long curly hair spilling out behind her, her green eyes flashing with each step. On guard, he closed the curtain. It would be better to stay hidden a little while longer.
****
Was it her imagination, or was someone staring out at her as she was walking along? She glanced up at the house just in time to see the curtains close. Her breath caught in her throat. Was it him? It couldn't be. It just couldn't be. He was just so perfect he couldn't be looking at her. Her eyes closed for a second, and she pictured him clear as day, only to open them and find him gone. Lord, she was in way too deep.
****
As soon as she rounded the corner, he climbed out his second story window and onto the roof. He sat there for a long while, watching the sky slowly darken as one by one stars appeared. A shooting star lit up the night sky. I wish she would know, he thought suddenly. It flew out of sight in response. He took that as a good sign, but he didn't go back inside. Instead, he stared out at the street, wishing for her to appear, to walk by again. But she never came. He went back inside and lay back down in his bed, the summer breeze cooling his face as he fell asleep.
****
She was distracted, her friends told her. She denied it of course, but it was the truth. He filled her thoughts. Love was always consuming her these days. The truth about her feelings was threatening to seep through her so tightly wound secret. He would know soon she thought. She could not help but dread this moment of truth. So she started avoiding him. And avoiding the truth. Him knowing could end amazing or disastrous. She was putting her money on the disastrous one because of who she was: a nobody with nowhere to go but home. He could never want her like she wanted him. But she was in too deep now.
****
****
If only she knew……his world wouldn't have come crashing down.
****
What could she have done? She had to keep her feelings a secret, so when Craig kissed her at the party, she had no choice but to kiss him back. She was a single woman, but it didn't help that he happened to be right there when Craig kissed her. Her guilt was tremendous, but hiding was more important to her; her first mistake.
****
His head had spun faster than a propeller when Craig had made his move. He wanted nothing more than to fight for her dignity, her honor. But that's when he saw: she was kissing back. It was almost as if, as he left the room, his world had ended. Because that's what she was: his world.
****
What stood out the most was the moment he left. She was making out with Craig, but out of the corner of her eye, she saw him get up and leave. She didn't see him again that night. So when Craig asked her to accompany him home, she said yes. Hiding her feelings again. Lord, she was a coward. She was breaking her own heart.
****
She had no idea, he thought later as he sat on his roof again. The roof only brought back memories, memories of her. She couldn't have any idea of his true feelings, or else she wouldn't have been giving Craig such tongue. But he was, he knew, very good at hiding his feelings. He didn't text her too often, only with questions, and he only talked to her when they sat next to each other. He wouldn't say hi to her too often, but he knew the right moment to take a greater chance. She has absolutely no idea, he realized.


****
She was so selfish, keeping her feelings hidden beneath another man. Craig was a jerk and didn't deserve her time or energy. But he, in a way, kept her safe from her fear: of him. He was her greatest joy and fear. Sometimes things seemed like a two-way street, others it seemed less than a dirt road. How could he not see how she felt? But then again, maybe he did and just didn't feel the same way; her greatest fear. He couldn't save her from that one.
****
He was getting closer to bursting. He needed to tell her; he had liked her for two years. Two years he had endured her smile, her hair, her personality, and her eyes. Lord, her eyes. A million shades of green and blue, with a ring of gold near the pupil. They definitely qualified as the most gorgeous eyes he had probably ever seen.
****
Four years: that's how long she'd been falling for him. He had never known the truth. There had been close calls, but she'd always found a way to hide. Her friends knew, but not the whole truth: it was love. She was in love with him. She couldn't deny it any more. But she couldn't take a chance on love.
****
She had been spotted too many times with Craig, it killed him. Each time was like a stab in the heart. He loved her so much, yet she didn't see the half of it. He didn't know how much more of this he could take. She was slowly but surely breaking his heart.
****
More and more each day, she saw him. Just when she was about to break things off with Craig, something extraordinary happened.
****
Kelly Gregory held no interest to him. Sure she was nice and pretty, but she wasn't her. Kelly was prissy, blonde, annoying, but she everything to her that Craig was to him: a tool. And he needed to heal his heart before things got any worse.
****
She couldn't take seeing him with someone else. Hypocrisy, she knew. But he dating someone else somehow made it so much more real. She immediately called Craig that night and broke things off.

****
He wrote it all down before he did it.
****
She woke up the next morning to find a letter beside her pillow. She opened it and read:
I love you, in case you didn't realize that. I've loved you for the past two years, even if you didn't know it. I've kept my feelings from you, and it ended up getting me back. You and Craig were too much for me to handle. I'm so, so sorry it has to be this way,
-
two blocks over
****
He walked to the drug store.
****
She didn't think to get dressed. She didn't think about her parents or her brother. She didn't even think about the bruise she got from jumping out her second floor window. She just ran.
****
He walked back to his house and locked the door. He walked into his bedroom.
****
She rang his doorbell. No answer. She knew which room was his from a time they worked on a project together. She climbed up the tree next to his window, and climbed inside, just as popped the pills.
****
The last he saw was her; good, he thought. She figured it out.
****
She threw herself into his room, but it was too late. He had already swallowed.
****
His world was spinning. He was falling but already lying down. A light appeared, but he didn't realize it.
****
A few hours later, she sat beside his bed in the hospital. It was a miracle he didn't die, the doctors told her. The amount he took was enough to stop his heart when they kicked in, but he didn't die. Just a coma. She gave a bitter laugh. Just a coma, she thought. If I hadn't been such a coward, he wouldn't be here.
****
Blackness, nothingness; all he heard was silence.
****
She cried silently. His parents had been here first, and when they left, she entered. It was very late, close to three in the morning. She saw his chest rise and fall, slow but steady. She couldn't bear to lose him, not now. Her fears and insecurities were gone; she wanted only him to stay alive. His parents considered her a hero, but really, she was the one who had almost killed him.
****
Crying, he heard crying. He heard muffled breathing. He wanted nothing more than to make the tears stop. But he couldn't move. He couldn't comfort.
****
She sat on the edge of his bed. She took his hand and whispered "I'm so sorry" over and over. She leaned in close and stroked his cheek. Wake up, she thought. Please wake up.
****
He felt a cool hand in his and then a stroke on his cheek. He wanted to catch the hand and hold it close. He thought he knew who it was.
****
She pressed her lips against his.
****
He felt cool lips on his. He felt more than that. He felt a spark of hope, of life…of love.
****
She walked back to her chair. She sat watching him. She fell asleep, tears washing her face.
****
He found that he could open his eyes. He opened them to see her, sitting in a chair asleep yet crying. Over him? He found himself wondering. He leaned over and whispered, "What are you crying for?"
****
She saw his face, near hers. His eyes open, filled with life. It's a miracle, she thought. She couldn't believe her eyes. The man she thought was going to die was staring at her, clear as day.
****
He smiled, even hooked up to the heart monitor. He leaned slow, then faster, and kissed her. He almost forgot the fact that this was the girl he had almost died for, and would do again.
****
"I love you," she whispered, and the words felt so right. She had held them in too long. You can't be afraid to take the chance, she realized. Because there's a chance things could turn out right.




10 years later…….
Walking down the aisle, toward her true love, she couldn't be happier. In her white dress, on her father's arm, in her white high heels, she glowed with happiness. The love of her life, he was waiting for her. High school seemed so long ago, yet that was when he found her and vice versa.
****
He saw her, in her gorgeous white dress, her hair in an elegant twist, her green eyes prominent on her face, and knew that she was the one, his one. He loved her with all his heart and soul, yet high school had seemed like a dream.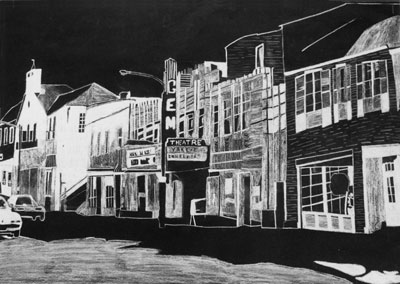 © Chelsea P., Kannapolis, NC