The Real Reason I Like You
August 26, 2010
Hey. It's me. Yeah, I know, you don't remember me all that well. I'm that girl that sits three seats away from you in English. There are two people in between us: Michael and Jenny. I know you know Mike. You talk with him all the time, smiling that wonderful, godlike smile you have. I don't care about your braces. I don't think you do either. That's one of the things I like about you.
You and Mike joke around in class, and play sports during recess. Sometimes it's basketball, sometimes it's soccer. I never know which it's going to be; it's one of the little surprises, the little presents I get from you every day. I'd love to be able to figure out how you decide each day. Is it just an impulse? A feeling? You always follow your feelings.
I'm the small, insignificant watcher on the bench across from the first basketball hoop. You've never glanced my way. But that's okay. I like to watch you play. You're always completely engrossed in the game, you're so focused on getting past Mike for once in your life. You're smaller than Mike, but that's no surprise. Everyone's smaller than Mike. You're wiry, though, and probably just as strong as him. You're definitely better than him at soccer.
Maybe you remember me as the weird girl with the frizzy hair who used to play soccer with you. That was a while ago, though, so probably not. Mike, back when he knew my name, once said I was pretty good for a girl. That was before I tore my ligament in my knee and the doctor told me I could never play serious sports again.
You know how that feels, right? You hurt your back last summer, and had to quit soccer for a while. I remember. I sent you a get well email. You didn't reply. You never replied to my emails, or chatted with me online. But that was a while ago, too. I haven't gone on my old account for months. You never bothered to get my new email address.
Remember kindergarten? You gave me a splendid red dress for my birthday. I never wore it, because my big sister told me that I didn't have any shoes that would match. She was right, of course. But I still wish I'd worn it at least once.
I told my big sister about you two years ago. She gave me this advice: "Be pretty. Boys love a pretty girl who can laugh and joke with them. Smile at him a lot, too. But mostly, you have to be pretty."
But I can't be pretty like Jenny. I can't make my hair lie flat and smooth like hers, and I have too many pimples decorating my face like the blue spots on your English folder. I'm not as thin as she is, since I can't run for very long anymore. My breasts are flat and small. Ever since my big sister moved out, I have no one to help me with my clothes. I'm sorry I can't be prettier for you.
So here I am, sitting on the bench across from the first basketball hoop. Watching you, like I do every day. I've memorized your face, your beautiful obsidian eyes, brown skin, and inky black hair. I love your hair. I want to touch it so bad. I wish I was in kindergarten again, so I could touch your hair without being called a freak.
Sometimes I watch you run, and I imagine me running by your side. But there, that's two things that will never happen.
Do you want to know the real reason I like you? It's not just your braces and your confidence and your hair and the way you run. It's this: that when you hang out with the other boys, you never make fun of Christie's makeup that looks so orange that it's a miracle that the principal doesn't notice, you never make horrible remarks to Mario about his obsession with Star Wars, you never call Jake gay, or use bad language, you never try to hurt anyone. You're kind, and mature, and funny and smart, and I love you for it.
The bell rings, the loud grating bell that signals the end of my time watching you, and the beginning of the endless beige rooms with hard wooden desks, always in the back, as far from the teachers as they can put me. I still sit on the bench, waiting for you to pass me like you do every day. My favorite part of the day.
You start walking towards me, but you're not walking towards me. You're walking towards the door on my left, not me. Never me.
But this time, something's different. You walk, twirling a basketball on your index finger, not on your middle finger like George does, and you're talking to the boys who walk with you. And your gaze roams, and catches mine.
I hold my breath. You will look away in a second, I know it. You always do.
But you don't. You smile, and I let my breath out in a surprised rush. I love your smile. How did you know?
But you didn't, of course. You smile your gorgeous smile, and then you walk away, the ball still spinning, the boys still talking around you. Nothing has changed for you.
But I sit there until the yard monitor has to come over and tell me to go inside. I don't hear him. I'm imagining us running together along the school track, laughing.
And I'm looking forward to it.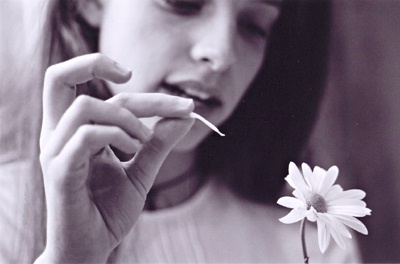 © Emily B., Houston, TX