Change Happens
October 2, 2010
For my life has shifted once more. A new Job, new life and a new change waiting to happen. My name is Ella Robinson, i'm 16 and fell in love with a backwoods boy named Dalton Robinson Ironically.We aren't related at first I thought we where 'cause the way i felt aroound him. I could be myself. We met through a couple of friends we both shared. We eventually came very closes and started dating.The very first thing he said to me was "hello beautiful" and that was the sign he call me beautiful not hot! I was so excited until after a year of dating my dad came home with "exciting" news.
I told hom it was great he job the job he wanted but i wasn't to hot about the moving part. I had no choice i had to go, i had to move.
"Hey Dalton can you come over?"
"yeah is something wrong?" he stampered out. i couldn't find the words to say so i think he got the Hint as he siad "wow that bad?" at this point i had tears streaming down my cheeks.
"why do i have to leave?"
i asked knowing i wouldnt have a reply.
"Well if you don't have a boyfriend when you come back i'll be here." i know he was just trying to cheer me up but in my mind he was just being unsensitive.
"thanks but if i leave i'm not coming back" i replied harshly at that moment he told me the sweetest thing
"well then i am coming with you." he said calmly. I thought he was joking around but then i thouht about it he is turning 18 tomorrow and he is already out of school. He was really coming with me.
"I'm herre. Come let me in." as i ran down the stairs to open the door i heard a gun fire and something hit the door. Faster i ran knowing something had just happened, another change as a opened the door another larger crackthen a sudden pain shot throgh me. The next thing i knew i was on the floor next to the boy i fell in love with. He grabbed my hand and pulled me closer to hm. If i died i die in familiar arms. i remember me on a gureene on my way to the hospital. Thank Goodness my neighbors were home and heard the shots. The doctors tried they really did. Dalton Robinson was alive the next week. I,Ella Robinson,was not. i could still watch Dalton for some reason. Was i in the After Life, Heaven,Hell or somewhere between?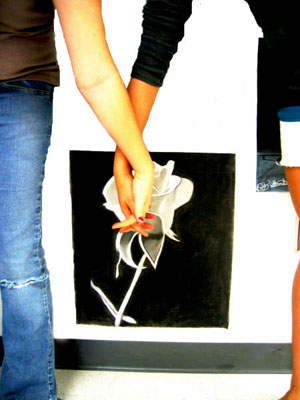 © Josie G., Wilmot, SD