Don't Make Me Sit
October 2, 2010
Could you throw a line my way?
Or a rope
I'm not picky
But I'd just like for you
To keep an open mind

To understand that all I did
I did out of care for you
'Cause all is fair in love and war
Or so they tell me now

It was dumb
It was foolish
I'm smart enough
To know this now
But dumb enough
Not to realize then

But it was for you
Must I give you more justification?
A clear reason, well
That, I must tell you
I'm lacking

Do you need one?
I'm sorry, but that is one thing
That I cannot give
So please just listen
Or wait
Or throw me a line





To…you?,
I hate the way you look at me now.

I hate the way every time your glance falls upon me, you turn as stiff as a rod and glance away, as if I never existed. But I existed, buddy. How could I not have existed, when I ruined your life?

That's the way my friends have phrased it. My friends, your friends, my parents, yours, they've all said the same thing.

Except you.


You never said a word. You saw it, and then you just…walked away. You didn't yell, didn't scream, didn't punch him 'til he was black and blue, you just…left.

I didn't understand. You'd never been afraid to express your feelings before. You'd let everyone know exactly what you thought of them, and why. So why hadn't you told me? At least that would've been something. Would've been something more than that glazed, dead look in your eyes.

I know it was wrong. You think I didn't know? I'm not an idiot, odd as that may seem. I couldn't help it. It just happened. Yeah, that's what everyone says. But for me, it's true. Honest.

Not that you ever gave me the chance to tell you that. You haven't given me the chance to do anything—anything at all. So should I just sit here, and sit, and sit, until you finally throw me a line? My butt will start to hurt.

I guess what I'm trying to say is….just let me explain. Some say explanations are useless, for something like this. I don't. Explanations always mean something. Always, always, always.

You might very well just tear this letter to shreds, so I'm not going to bother stating my reasons here when they may never be read. But if you do….there I go with the ellipses again. If you read this, I want you to know, no matter how false, or dumb, or cliché it sounds, that I love you. I always have, always will. No matter what…or who….has come between us.

So don't make me sit here forever.
Love,
Me. Only me.


I clenched my fists tightly and let the letter float gently to the floor. I lifted a heavily booted toe and kicked it into the fireplace.

She could sit in H*ll for all I cared. I'd never come.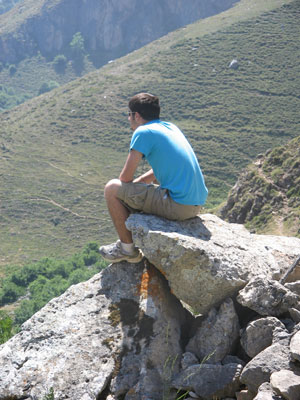 © Bonnie K., San Antonio, TX