Green Eyes
October 28, 2010
Green eyes, black hair covering the left eye. I'm too stunned by what he looks like to notice
anything else going on. "Ms. Flourentine, is something wrong?" The teacher asked loudly, startling me out of my thoughts.

"Hmm? What?" I asked, jumping.

"I think she's busy too busy thinking 'Oh my god why am I wearing this?'" A girl said, laughing a cold, mean laugh. Involuntarily, I looked down at my outfit. I was wearing my favorite outfit. Black leggings under a black dress with a white skull pattern. It landed at mid-thigh in jagged angles. It had a small v-neck and sleeves that ended at my elbows. My feet were wearing black dance shoes. I was never in dance, but I thought they were cute, so I bought them. I didn't see anything wrong with my outfit.

"Ms. Nite, you did not have your hand raised," The teacher told the red headed girl who made the comment. She just huffed and rolled her eyes. "Ms. Flourentine, go take a seat in the back please."

"Sure, Mr..." Cr*p. I forgot the teacher's name. Did he even tell me it? I hadn't been paying
attention. That boy with the green eyes... Why did he have to sit in the front row? I took a look
down at my bright pink schedule. "Sure, Mr. McMath." I walked to the back row, stepping over the red head's foot that hadn't been there a minute ago, and took a seat in the back corner next to a girl wearing plain blue jeans and a shirt that said 'Trashcat is not amused' with a picture of a cream colored cat's head sticking out of a trashcan.

"Cool shirt. That's an Lol Cat, right?" I asked her, leaning back in my chair and ignoring the teacher's talking.

"Yep. It's one of the most popular ones ever. Along with Monorail Cat. I'm Franky, by the way," She
replied, smiling and giving a peace sign. "Nice dress."

"Thanks, and my name's Dani. I love all the Lol Cats, although I have started noticing a lot of
people trying to copy all the popular ones. They're all epic fails, though." I started laughing, which caught the teacher's attention.

"Ms. Flourentine, is there something funny back there?" Mr. McMath asked. The red head giggled and gave me a smirk. I noticed the green eyed boy watching me and turned a little red.

"No, sir. I just have laughing fits when I get nervous." Way to go, Dani. Just make yourself seem
stupid infront of the whole class. Red head laughed loudly and green eyes smirked. I turned redder.

"Of course you do, Ms. Flourentine," Mr. McMath said with heavy sarcasm, which I never knew teachers knew how to use. "Now come take this to the principal for me." I groaned and got up, knowing already what it was. Leave it to me to get sent to the principal's office on my first day at school. Franky gave me a sympathetic look while I walked up to the front of the room.

This time I didn't notice the foot. I tripped and fell, catching myself on the ground with my left
hand. I got up quickly, hearing lots of different laughs from all over the room. I held my brightly
burning face high as I took the slip from the smirking teacher and walked out the door.

I walked to the principal's office, coming up with what to say, what may happen, etc. It wasn't really as bad as I had originally thought it would be. The principal was a nice young woman, Mrs. Lovelie, and told me she understood. But she did say that if I got sent here two more times I'd get detention.

The rest of the day wasn't much better. I had the red headed girl and the green eyed boy in all my
classes, but I had Franky in all them, too. I dreamed of the green eyed boy that night. He was nice
and we were at the park together, but I woke up when it changed to a nightmare.

I thought the second day would be better, but it wasn't.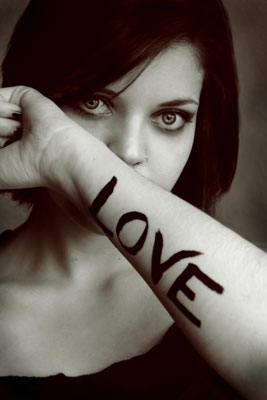 © Michelle B., Blairsville, GA