His sweet lips
November 28, 2010
James whispers in Ambela's ear, "Want to go to my place, this movie sucks!"
Oh my gosh, what should I say this is our 7th date, will he make his first move there!!!
"Sure" Ambela said in a trembling voice.
As they stood up, they moved slowly through the crowd of sitting people. A few people complained but they both ignored them.
"So are we going to walk or are we going to take a taxi?" she asked.
"Well, I thought we could walk through the park on the way to my apartment" murmured James.
"Sure" Ambela said again.
Wow this is really awkward am I being to straight forward with her?
Darn I think this isn't going well, what should is say to him?
"So…" they said at the same time.
They laughed and started walking faster. They reached the park in about five minutes. As they strolled on the pavement James grabbed her hand holding it tightly. They stopped at a tall tree which had mesmerizing flowers. He put his hand around her waist and leaned forward, his thin cherry lips curled moving closer to hers. They were so close to each other. They could hear each other breath. He made his move, his sweet lips against hers. She gasped after a while and blushed.
Wow that was amazing!!!
He was a dream come true for her.He was as beautiul as an angel, honey eyes, caramel eyes and the most hottest figure.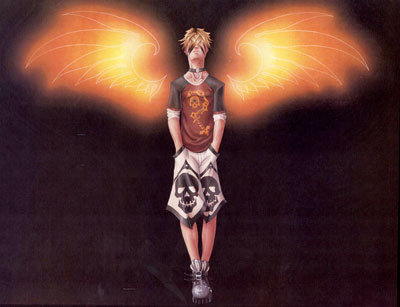 © Raul R., Monte Vista, CO