With Him
November 27, 2010
I had gotten out of the shower and thrown some clothes on when I went back downstairs to see Sawyer playing with my Great Dane, Tiny. He was on all fours swatting at Tiny in a playful way. Tiny was going bizerk with happiness that someone was actually playing with him.

I watched them for about five minutes, up until Tiny started to get tired and sniffed around for a good peeing spot. I went down the remaining stairs and put Tiny outside. Once I came back in with Tiny, Sawyer was still there. I thought he would've left when he had the chance.

"Thanks for driving me home."

"No problem. Not to intrude or anything, but I missed lunch too. Is there anything to eat?" He looked so extremely shy. I've never seen him look like that before.

"Yeah, sure. Follow me."

We walked into the kitchen. I sighed as I saw that my mom hadn't come out of her room. I hope she ate. I thought.

"Have anything you like. There might be some food in the fridge, and there's also stuff in the cabinets if you don't find anything." I made my way to the freezer to grab something for mom to eat.

I popped the freezer dinner in the oven and turned back to Sawyer. He hadn't moved from the doorway into the kitchen. He was just staring at me.

"Something wrong?" I asked.

"No." He answered still staring at me.

"Ok."

He moved over to where I was standing and looked right into my eyes. It felt like he could read my mind, see everything that has happened in my life. It was like he was looking into my soul. He was standing close, oh so close. I feel his breath softly on my forehead as he looked down at me. I was too scared to blink, thinking that the moment would be over if I did. Everything was quite, the only sound coming from the microwave.

We were still looking at each other when the microwave beeped, we both jumped.

"Um, I'll be right back." I said taking the dinner out of the microwave and grabbing a fork and bottle of Jack Daniels, then headed to mom's room. I could feel his eyes on me the whole time until I reached her room, turned the door and entered. It was until I closed the door that I let out the breath I didn't know I was holding.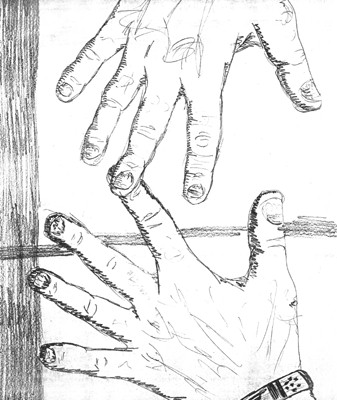 © Katie T., Hull, MA