I Love You, Beautiful Girl
December 17, 2010
Lainie Park is the sort of old, run-down playground where its easy to get splinters because everything is still made of wood and where there are less children on the swings than middle schoolers smoking cigarettes by the sandbox.

It is the kind of place that seems so gritty on the surface, like it yields no purpose but to provide structures to collect bird droppings and little huts to accumulate plastic sandwich bags and minty pine needles.

But if you look beyond its surface, and squint your eyes a little bit, it becomes utterly ethereal. The darkened trees along its perimeter could house blazing fires and black magic. The wooden pathways could be twisting chutes for escape. Maybe it's just me. Maybe it's just because it is in this place that I fall in love.

The sky is vibrant hues of pink and purple and orange, all blending together so that it's impossible to tell where one ends and the other begins. The yellow sun is static near the bottom of the horizon, a bright ball of fire hanging, suspended in the air like a puppet on a string. Down here on earth the grass is green and slick with moisture and park is eerie and still.

"Close your eyes," I say, covering Ross's face with my hands. "Count to ten."

"One, two…"

This is where he tells me he loves me and I know it's real. There will be no rose petals and no cheesy love songs, no guitar-stringed melodies floating through the air like translucent creatures. There will be no silver or gold wrapped around my finger.

There is mulch and there are black swings and there is one yellow slide.

"Ten!"

I have climbed to the top of the tallest tower, and I clutch the sides and lean over and down, shoes hanging over the ledge.

"Rapunzel, let down your hair!" Ross calls, purple hands cupped around a purple mouth. It's cold, almost thirty degrees, but we shed our gloves to stick to the plastic and now they're buried somewhere in the frosted dirt.

"Come down here!"

"You come up here!"

He grabs a rope and hurdles toward me, and I scream and clap my hands together like a child. He reaches for me, but I step back suddenly, and his face falls from me. The sound of him hitting the ground is sickening. My stomach lurches.

"Ross?" I take the slide. "Ross?" My voice reveals panic. "Are you okay?" I drop to my knees and shards of mulch stab through my jeans. I grab him by the shoulders and shake his pale body until his eyes snap open and he can focus on my face. "Are you okay?"

He pulls me close and we both smell of smoke. Our bodies melt onto one another like candle wax and I want to stay this way forever. He tips his head toward me and his lips breathe forever into mine.

"I love you, beautiful girl," he whispers.


The wind picks up and the grass begins to swish, the chains on the swings rattling like a broken dishwater. The moon stares down at me, pale and insecure, a clipped fingernail scraping the sky.

The clouds are my blanket. The moon is my witness.

I love you, beautiful girl.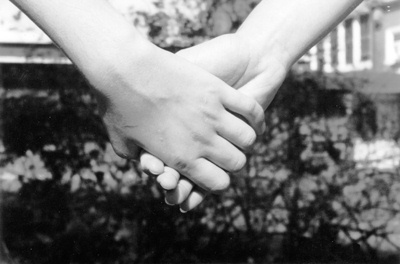 © Lauren G., Pompton Plains, NJ