Ethereal Intrigue
January 9, 2011
As far as Princesses went...Blueberry was the prettiest.
She also happened to be the most unhappy, unsurprisingly.
Letting the silver silken tatters of her skirt trail in the mud under the bench was only half of the rebellion. Tearing her skirt to the point where it was almost obscene was the other half. Smiling to herself she swung her legs back and forth relishing the thought of walking cavalierly into the crowded dining room that night and watching their faces gawk. Jaws dropping open in shock and wine sputtered from lips in absolute pure surprise.

Ribbit.

"What the...?"

Ribbit, "Hello frog," Berry said, her nose scrunching up as the scent of dying roses—which was what always accompanied the frogs on palace grounds—hit her nose. The frog sat complacently with its fuschia pink throat swelling into a blood-red apple every time it said something.

Ribbit.

"I look stunning don't I?" she asked, twirling her finger in a lock of her evergreen tree colored hair and stretching her slim figure into a pose that was as close to "alluring" as a princess was allowed to be.

Perhaps a little more.

She smoothed her hands along the massacred hem of her many layers of satiny skirts, "I designed it myself, you know," she said spreading it out with her hands to display its complete state of ruin and her silvery tinted blue skin more fully. Once again she smiled to herself in satisfaction.

"Aren't you a divine creature?" she said bending over to scoop up its pink squishy body. "In fact, your skin color would make my lips beautiful. Mind if I try it on?" The frog blinked its black eyes in answer. Leaning forward Berry kissed the fuchsia frog.

Slowly, rose colored mist began to seep from the frog's skin making the scent like decomposing flowers overwhelming, closing her hands, Berry realized that the frog was no longer in them. Instead a dewy moisture clung to her soft skin. Leaning back she braced herself with two hands on the back of the marble bench watching with eyes wide the mist swirl and unfold like a dance the performers and gypsies might create.

"Whoa!" exclaimed the extremely tall prince, recognizable by the thin, braided gold line of a crown on his brow glinting when it managed to see through his auburn hair. His faint green skin glinted luminescent in the moonlight. Lifting his arms up behind his head, he knotted his fingers together looking at the courtyard and then meeting his fuchsia eyes back to Berry's lime irises. "You blue-bloods have some nerve. Kissing frogs," he scoffed, "How Improper."

But his smile said otherwise.

And so did Berry's dress.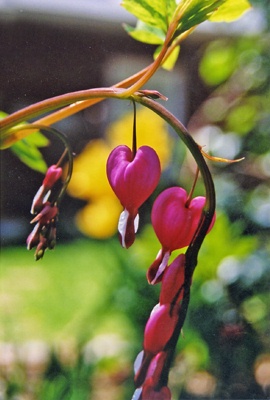 © Sophia E., Wilmington, DE