Smoke and Stars
January 29, 2011
"Almost time to close." I sighed as I folded a box down.
"Thank goodness. We were so busy tonight." Patience said.
"I know. I hate when we are this busy, everyone always gets up at the same time." I'm a busser at a nice family restaurant here in town.
"Who are you closing with tonight?" She asked.
"Um..KeKe I think."
"Okay, that's cool. Well have a nice night. I'm out of here."
"Bye Girl," I said and walked outside to the dumpster. Casey was outside smoking a cigarette. "Hey Casey." I said to him leaning against the wall.
"Hey Hannah, whatcha doing?" He asked, puffing his cigarette again.
"Taking a break. We only have five tables left and Keke can handle it for a few minutes."
"True. I have Rachel watching my section." Casey is a server here, he is also twenty-two.
"Hey Casey, can I have a cigarette?" I asked tiredly.
"Aren't you only sixteen?" He asked, taking out his pack. Casey wasn't much of one for the rules.
"Yeah." He handed me the cigarette and the litter. I lit it and handed him back his litter. "Thanks." I smiled.
"No problem." He said then looked at me for a long moment. We both puffed our cigarettes and flicked ashes off the end. He looked at me again. "You know, your different then I thought you were." He says in a hushed tone.
I look at him questioningly, "How so?"
"When you first started here, you seemed so sweet and innocent." I looked at him still not understanding. "Most sixteen year old I know don't cuss, drink or smoke."
"I don't drink. And I don't usually smoke." I answered and flicked more ashes. He looked at me with a strange intensity. An intensity that I had never seen Fun-loving-crazy-happy-go-lucky Casey have.
There was a chilly wind. I instinctively moved closer to him. I puffed one last time off my cigarette before throwing it down. "Thanks." I said again.
"Your welcome." He threw his down to. "Hannah," He said almost urgently.
"What?" I spun to face him. He pointed to the sky, "Shooting star." The star burned with a brilliant light against the black sky. Casey had his arm around me now as we looked up. I smiled. I never knew I had wanted this to happen until now. I never thought that I could fall for Casey but now it seems that I'm falling faster than the star.
I looked up to him once the star was gone. His eyes were once again intense under the starlight. He bent his head down toward me. I stretched up toward him. I was in his arms and our lips were moving together.
"We gotta get back to work." I said, unwillingly and breathlessly.
"Yeah, I guess so. Wanna go out after work?" He asked.
"Sure." We walked back inside.
********************************
Our first date was spent laying in the bed of his pick-up truck, under the stars.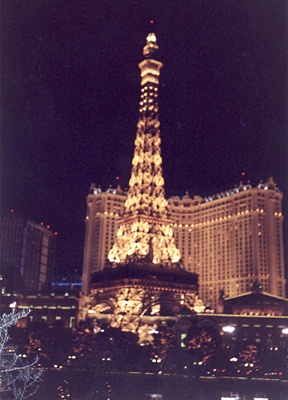 © Kevin H., Houston, TX