Cloud Nine
February 20, 2011
The high school football game. That's where it started, that's where we met. I saw you leaning on the fence talking to your friends. One of them was my friend, I saw my chance. I had heard about you. You were THE boy, and I was a nobody girl. You were the senior who had it all. I was the sophomore who wanted it all, including you. Did you want me too?

I wanted nothing more than to talk to you. But, where to start? Did you even know that I existed? You had the reputation of being a player, but I wanted to find out the truth for my self. On my way home my friend made it clear that I would never have a chance. You were way out of my league. I was about to give up, until one day everything turned around. I took out my phone and your name was on the front. From that moment on I wished the same thing on every shooting star. Can you guess what that was?

I waited a month. A month too long in my opinion. But then that day finally came. You asked me to go out with you. Of course you knew what my answer would be. You said you would pick me up at 7 ish. Your 7 ish turned out to be 6:59. Your reasoning? Well you didn't want to disappoint me. I thought that was cute. You were always a charmer weren't you?

We lived in a ski town, it was tourist season. Fur boots, fur coats, and snow filled the streets. We went to the little deli that only the locals knew about. You bought the hot chocolate with whipped cream and all. We sat by the window watching the snow fall under the street lights. We talked and laughed even after the red closing sign was turned. When we walked out of the shop the little bell rang, that's when you took my hand. You drove me home, and walked me to my door. Thats when we first kissed. It was just a peck but it got my heart racing. I felt like I was on cloud nine. Did you?

A month and a half had passed and we were merely laying on the couch watching a movie. You turned to face me with your chocolate brown eyes. They made my heart melt a little every time I looked into them. You got that smile on your face. The same one that you always got on your face when you were about to kiss me. I felt the soft pressure of your lips on mine and that's the last thing I remember before I feel asleep. Yes, I fell asleep in your arms. I couldn't have been happier. I remember waking up to you stroking my hair and looking at me with your beautiful eyes. You laughed a little and picked me up. The next thing I knew I was in my room on my bed with you kissing me goodnight. I would have done anything for midnight not to have come that night. One thing did come out of that night. That was when I first realized that I loved you. When did you first realize that you loved me?

From that day on you were on my mind the majority of the time. Every time I saw you it seemed as if a warm glow filled the room. Your smell made me relaxed beyond words. When i was in your arms the world felt like a safe place. We spent months together just watching movies and taking walks out in the snow. I loved it when you would walk up behind me, wrap your arms around my waist and kiss me gently on the cheek. Did you enjoy all of those simple moments as much as I did?

I remember the night that you told me that you loved me. It was the day that marked two months. I had been waiting for weeks for you to tell me. I knew that I felt the exact same way but I think you were worried about ruining anything between us. We had just gone back up to the little deli to have hot chocolate. On the car ride home I talked you into stopping by the little park by my house. The snow was falling in flakes of powder. We walked under the full moon in the silence to the swing set. We sat there and swung in the falling snow in silence. Then you turned to me and in a whisper you said "I love you". I whispered back the same words to you. We kissed. It was as simple as that. You were my first love. Was I your first love too?

We dated for the next couple of months. It was bliss. I don't think that I can count as high as the number of times that you made me smile or laugh. Did you know that you have a million different smiles and I can name every single one of them? I think I told you that once, do you remember?

The months passed. February turned into March. March into April. You were the lead part in the spring play as you were in the fall musical. Your star status came about once again. I saw how those girls looked at you. How each of them came and hugged you after your performance while twisting their hair with their fingers. But when I walked up to you behind the group of girls flirting uncontrollably with you, you asked if they would excuse you for a minute. You pushed past them and wrapped me in your ever so familiar arms. Do you know how much that meant to me?

When April turned into May prom was right around the corner. I picked out my perfect dress. I remember standing in front of the mirror picturing you standing beside me. The day of prom was hectic. I slipped on my baby blue dress and did my hair up. When I got out of the car at the park to take pictures everyone looked at me. The only one I was looking at was you. You looked amazing. You were all mine and I couldn't have asked for anything better. At the dance I stood on your toes and laughed as you massacred the waltz. I stepped off of your toes and showed you the steps. You caught on quick. You were a good dancer, did you know that?

Another month passed and it was the day of your graduation. Do you know how much I cried? I showed up in the stands wearing my dress. I counted back the rows laid out on the football field and found the seat that you were sitting in. You were talking to one of your friends. The next thing I remember were all of the red and white hats flying up in the air. You were done with high school. Does that mean that you were done with me too?

It was now summer break. You were about to leave for a month on your family vacation that you took every year. I remember you telling me how both of your previous relationships had broken off right before this trip. I remember kissing you before you left. I was worried that it would be the last time that I did. When I think back to that morning I think of the birds chirping and the sun rising. You turned to walk down my driveway back to your car. Tears filled up in my eyes. I wanted to call your name because I knew that you would turn around and come kiss me one more time. But I didn't. I regret that. Do you regret anything from that morning?

You were supposed to be gone for a month. I had been texting you for two weeks when you sent me a text saying that you were coming home early. Your dad was sick. He had been very ill earlier in the year but things had become even worse. I didn't get to see you for another week. When I did your eyes were red and swollen from crying. I hugged you tighter than I ever had before. Your dad was sick the rest of the summer and you were so concerned. Would you have been that concerned about me?

The day finally came when you were leaving. For good this time. You had gotten accepted into your Ivy league. I knew that our relationship had to come to an end. It killed me inside. You stopped by the morning before you left. You looked at me the same way you always had and told me that it would be ok. Tears welled up in my eyes and you wiped them away as they fell one by one. But I saw it. Don't deny it. I saw the tears in your eyes too. You kissed me one last time. I stood in the exact same place that I had the first time we kissed. I watched you walk away. Was that day as hard for you as it was for me?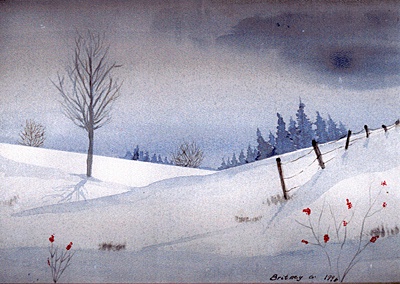 © Britney G., Green Bay, WI