Tutored to be Loved Chapter 5: Lost
March 1, 2011
A few weeks have gone by, and I've been feeling so empty… Sarah and I have been not communicating with each other since our last conversation and I haven't been tutoring Sean because he spends his study hall period texting his girlfriend Mandy. Speaking of Mandy, I don't think she can get any more like a s*** than she already is. Her and Sean's relationship has been shaky now. They've been fighting constantly because they can't trust each other. One reason is because of me and Sean, and the other is Mandy being with her ex boyfriend Caleb. Sean has called me a few times to tell him about his drama. It's too awkward for me to speak to him so I make excuses to hang up earlier. On the bright side, I've been talking to Mike Sanders more often. I may have flirted a few times. Life is so confusing right now. I want to know if Mike is into me.
I walked to English class and I took a seat next to Mike. "Hey. How's it going?"
"Awful, you?" he replied.
"Why awful?"
"My grade is dropping and if I don't pull it up then I'll be kicked off the team."
"Maybe I can tutor you sometime. I am qualified to be a tutor."
"Okay. Meet me at my locker after school."
"Okay. See you there." I was actually excited for after school.
I walked to his locker after school. I waited patiently and noticed that the clock said 3:05. "Boo!" I heard Mike's voice and my face reddened. He freaked me out.
"You scared me!" I told him as I put my hand against my heart. We laughed and he put his hand behind my back.
"Come on, let's go. I'll drive you to my place."
"Okay. Let me call my mom." I got approved to go to Mike's house luckily. We got to his house twenty minutes later. We walked up to his room. I noticed the blue plaid bedspread with grey walls and green pillows. I was surprised how clean it was. There were one desk and two chairs. I chose the black chair that spins. I got out my books as he did so too.
"Let's start on chapter four in To Kill A Mockingbird."
"Or… We can read on my bed." He commented.
"Okay," I said shyly. I had butterflies in my stomach after. So I sat against the headboard and he turned sideways at me. "Why don't you start reading?"
"So Scout told Jem that she was mad at him…" We read chapter four in a breeze. And after he started moving closer to me; I awkwardly lay still.
"What are you doing?" I asked as his fingers started lingering on my stomach.
"Nothing," he said in an angelic tone that made my body face him. His body started touching mine to the point I felt uncomfortable.
"Can you stop?" I asked awkwardly. He started trying to put his lips towards mine. I pulled myself away.
"Why? I thought you liked me. That's what Sean said." He told me as I pulled myself up from the bed.
"Sean was right but I feel uncomfortable."
"Why?"
"Because I-"
"Shh," He grabbed me from my waist and pulled me to him and kissed me on the lips. Inside it felt so wrong but so right. This is what you wanted right? My conscious told me. I pressed against him and continued the make out session. A few minutes later we became more intimate and I found myself nude in Mike's bed.
I grabbed my clothes while he fell asleep and exited out and took a long walk home. It was a cloudy day and I felt overwhelmed by everything that was happening. It clicked to my head that I just hooked up with Mike Sanders. I felt my head pounding and the wind surrounding me was too much for me to handle. I felt myself cry and have this deep depression inside of me. Why me? I thought to myself. This was the first mistake I've ever made that can lead to serious consequences. In my heart I was praying to God and asked for forgiveness. I don't think he will forgive me though. I was supposed to save my virginity til marriage but things changed. I walked until my legs gave out on me. I sat on the curb on a dead road just crying with sadness. It was already dark out and I grabbed my cell phone and called my mom.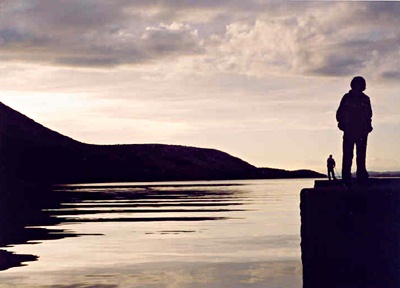 © Julia K., Nagykovacsi, Hungary