Tutored to be Loved Chapter 8: Replay
March 19, 2011
I woke up feeling confident. My mind kept replaying last night. I felt as though everything was surreal. I got ready, and wore my favorite shirt and skinny jeans with flats to impress Sean. As I arrived at school, I smiled at him. "Hey." I blushed.

"Hey." He hugged me. "How are you?"

"Better. How are you?"

"Pretty great from last night." We stood there silently, smiling and gazing into each other's eyes.

"Yeah…That was um- an interesting night." We laughed.

"Hey, do you want to come over after school?"

"I'd love to."


It was around seven at night. I was in Sean's room. My stomach kept rolling butterflies. I was laying in his bed because it's so comfy. "Hey, babe." Sean came closer to me.

"Yes?" I smiled at him. I was so happy to be with him.

"Want to replay last night?" I blushed and giggled. I couldn't believe he was doing this.

"Um…"My gut told me NO LILY! My heart and mind told me, "YES!" So I followed my heart. He came closer and I began to muster up the courage to add more passion into our intimate moment. Once our lips touched for a while, I lost my train of thought. I drowned myself in love by touching his lips.

***
The next few weeks Sean and I became closer than close. We would go to the movies together, go to restaurants, and go mini-golfing. Yes, we're finally officially together. I have never felt so happy in my entire life. That one part in my heart is finally filled with Sean's love. After seeing a horror movie, I was pretty tense. We decided to walk onto a nice cornfield. No lights-just his truck, Sean, and I. We lay down in the grassy part on the side of the area on this Friday night. He brought his blanket and a few bottles of beer for us.

"Cheers to our friendship." Sean stated. Our glasses clicked, and we chugged the alcohol as it went through our throats. "And to our love." After we made out for a while. I felt as though everything fell into place for the first time in high school. Sean then started to become more intimate, more than I would like.

"Sean, what are you doing?" I moved away from him.

"I want to show you my love." He slurred his words after a few more beers.

"No, you just want to show your dick…" I told him. I felt upset, as though he was using me. I started to get up and he pulled me down. "What are you doing??"

"I –I want y-you." His voice slurred, and his breath reeked. "I- I wuv you." My heart stopped. Is he telling the truth? Or is he just drunk? I looked him into his eyes. His eyes were wandering constantly, but I knew he was telling the truth. But why would he tell me this when he's drunk? Or am I just overthinking? I am overthinking.

"I love you too, Sean." I told him.

"Then-then if you wuv me you'd show me your love." He was right. In order to keep this love strong, I needed to take risks. He pulled me closer into him, and my adrenaline rushed. He started to pull my pants down, and my gut was screaming NO! I ignored it. This is love. Making love makes people stronger. I decided to stop thinking, and let our love continue in the middle of nowhere.

***
I woke up with Sean next to me, and myself naked. Why the hell did I do this? I thought. This is love. Love is good. Good is happiness. So I should be happy, right? He smiled at me and stretched out his arms. I never knew he had a six pack and he looked so gorgeous in the morning. It was certainly better than looking at Mike Sanders' body. "Good morning, beautiful." He said.

"Good morning, love." I replied with a smile.

"Had a good night?" He asked. I nodded. I got up and when I put on my underwear, Sean said, "You look luscious when you're nude. " Should I feel offended or take that as a compliment?

"Thank you. You look pretty hot right now."

"Oh, I know. I'm Sean Adams. What do you expect?" We laughed. I hope he was joking… We got up and went home. I didn't know how I felt. Confused or happy? I hope our relationship isn't always about sex.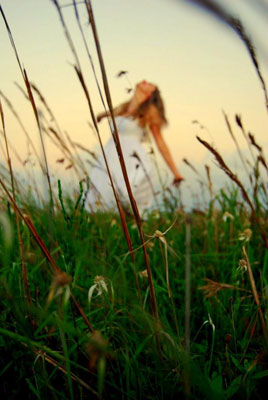 © Richard F., League City, TX