It Is Love
April 6, 2011
Outside in the glow of the moonlight, in the cool spring air, in the sweet peace of gentle silence, I close my eyes. I imagine.

Pastel colors float, forming a meadow. The sky is a soft rainbow of sunset, beautiful yet calming to the eyes and to the mind. A breeze, cool and crisp twirls by me, carrying with it the rustle of leaves and the sweet songs of a bird's lullaby. My feet are bare, and through my toes I feel soft earth and grass poking its way toward the sunshine. It is perfect, or so I think. Yet something is missing. Then I see him.

Appearing before me, he holds me gently. We say nothing. The wind speaks for us. We dance, slowly and without instruction. Still, we move in perfect harmony. I smile at him. He smiles at me. We dance to a music that cannot be heard, and yet it is there. Perhaps it's in the wind, or maybe the trees. But I think it's in our hearts, so perfectly harmonized. Nothing could disrupt this. Nothing.

I twirl. I from me comes a song yet I am not singing. It is love.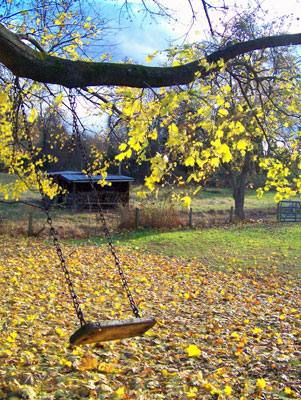 © Margaret G., Hillsborough, NJ