The Hard Life Of The All American Drama Queen- Chapter One
May 20, 2011
Love triangles are NEVER easy. Let's just get that clear right now. Sure, they sound dramatic and fascinating in those stupid, dog-eared romance novels tossed around my apartment, but really, they're just a big load of hurt. Unfortunately for me, I'm the ignorant girl who always dives into everything without really considering the consequences. That's exactly how I got into this horrible mess known as my love life. Well, at least my life isn't boring anymore…
It all started when I moved to this dumpy, little apartment in New York. Like most everything in my life, I thought it would be dramatic and exciting to live in the city that never sleeps. I pictured a luxurious pent house with a view of every building, one with a giant bath tub and funky art work. I'm a diva, I always have been. My parents' friends would always say, "Oh that Cassidy, she'll go places!" or "Awe, isn't she just the cutest thing you ever saw?" Of course, I was 6 then. Those were the easy days; putting on plays in my living room, singing at the top of my lungs in the shower for all to hear, and dancing around in silly get ups that my momma would find at Wal-Mart. I just assumed that I'd be famous one day. My plan was simple: Move to New York, get discovered, and then have those guys from MTV come show off my fancy, high end apartment. That was, until, I found out just how much those high end apartments cost.
Anyways, when I moved here I got my much needed reality check. There was no way a small town girl with a part time job at Wendy's could live in the dream apartment, so I settled for a little place just outside the city. I still struggle to pay my rent sometimes, but I suppose it's better than nothing.
There was ONE good thing about my building, at least. Every day at 11, the most handsome man you'll ever meet gets out of his little blue car and walks inside. How someone as good looking as him ever ended up in this place, I'll never know, but trust me, I am NOT complaining! Sometimes I even go as far as thinking the view of him may be even better than the skyline of my dream pent house. I seriously don't know why I wasted my time looking at him, though. There was no way a dream crushed chicky from out of town would EVER get a piece of that; well, not until I least wanted it.
You see, I got over my obsession with this mystery man after a few failed attempts of trying to make conversation in the elevator I just happened to be riding in when he entered. He was obviously uninterested; I decided that some fancy New Yorker already had her claim on him. I mean, there's no way a cutie like that could just walk around all alone, right? But if he DID have a girlfriend, why would he come home every morning at the same time. It was none of my business, but people's stories have always fascinated me. Even though I managed to give up on the idea that he'd ever like me, I always looked for him at 11. I'm not a stalker, I swear! I just have to get up early for my job at the food court in the mall a couple blocks from here.
Ah, the food court. It's where I work, where I socialize, and where I met my amazing boyfriend, Joe. I know, I know, I just get over this mystery man and now I've moved on to the McDonald's cashier, but seriously, Joe is a super nice guy. We dated for about a year and then he asked me to move in with him. Part of me really wanted to take that step; I mean, I wanted a future with this guy! He was perfect in every single way. The other part of me, however, just couldn't give up my 11 am ritual. Please don't criticize me, I know it's a very stupid reason to not move in with the love of my life, but I really just couldn't leave the idea of the apartment guy without at least having a real conversation with him.
As usual, I couldn't just be happy that I had perfect Joe; I had to talk to that stupid guy. That's the way I've always been, drama, drama, drama. I used to think drama meant living this amazing life style that everyone talks about, but I soon found out that I DEFINITELY should have looked before I jumped into THIS mess.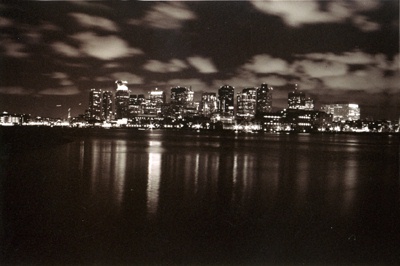 © Hoang P., Rochester, NY