Everpresent Coffee
May 31, 2011
There's a numbness inside of me that knows you must feel something, somewhere deep down inside. Maybe not for me. Maybe not for someone on this planet but I know you have feelings none the less. You try to hide them amidst the slouch in your walk. The empty gaze of your facade. But it's too late. I know the real you.

You shift into a nonchalant gaze, preoccupied with your ever-present coffee, as the steam floats in a fog around your face making you seem more dreamlike, more unattainable than ever.

Just yesterday that fog was lifted revealing your true features. Seemingly expressionless eyes animated. Your ever roaming attention focused.

Just yesterday you were opening the bud of your mysterious untold life, telling me of things you share with no one. Your thoughts, your hopes, dreams and aspirations. Just yesterday I smelt the bitter aroma from that everpresent coffee cascading off of you, taking with it all your resentment towards this world.

But now, you've pulled deeper within yourself than ever before.

It really shouldn't bother me but you see, it does. For I've already pinned my own dreams of what may be upon my heart, and they can't just as soon be ripped down without leaving a scar. For this, I have only myself to blame. You never promised anything. Never promised what I wished for, but you certainly did everything except speak those words.

I can see it now. You're walking across the room to meet me. To tell me you're sorry, you didn't notice I was here. You've anticipated this moment just as I have. I'll see the light in your eyes open up again, just as it had before, solely for me. I'm waiting. I'm waiting...... the steam of your coffee fogs the face of my visionary you.

If it were anyone but you I'd ask what was wrong. If it were anyone but you, I'd try to be of some sort of comfort. But it is you. And that is why I must keep my distance.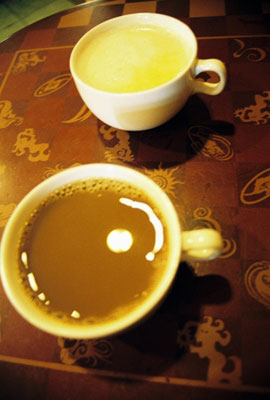 © Jaci S., Duluth, GA